Customer Spotlight: Butler University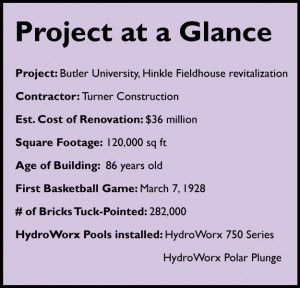 Earlier this month we had the chance to visit with Butler University's Director of Sports Medicine, Ryan Galloy, MA, ATC, CSCS, about the recent changes to Butler's famous Hinkle Fieldhouse—one of the most historic venues in college sports. Jesse Owens ran in there, Herbert Hoover campaigned there, and Oscar Robertson led his 1955 high school team to the Indiana state title in the Hinkle Fieldhouse.
So when a re-do was needed—crucial upgrades to seating, locker rooms, training facilities and rehab equipment—invoking "change" without losing "charm" was key. Since the Hinkle is a registered historic site, designers were left to work within the framework of the existing structure.
"To keep within the preservation laws, we had to work within the walls we had," said Galloy, former Bulldog linebacker who returned to his alma mater in 2010 after a stint at San Diego State University, "but building out a new sports medicine facility and equipping it with aquatic therapy were primary objectives.
"We took what was the old pool wing—built in about 1920 and closed down in 2002—and created roughly 4,500 square feet for a new weight room, study rooms, offices and a state-of-the-art sports medicine facility. I really advocated for not only a warm water therapy pool with treadmill and jets, but also a cold plunge pool."
The crowning features of the remodeled facility are the new HydroWorx 750 Series therapy pool with underwater treadmill and resistance therapy jet technology and a HydroWorx PolarPlunge pool, both offering student athletes a more advance recovery.
The addition of the pools will be a boost for the athletic department, as a recruiting tool and as an aide to player comfort.
"Not only are the HydroWorx pools great for rehabbing our players, but they absolutely serve as a recruiting tool as well," continued Galloy. "Now, we bring all prospective student-athletes through the sports medicine facility, showing the athletes that we're serious about keeping them healthy and that if they do sustain an injury, we've got all of these resources to get them back as quickly, safely, and in the best shape possible."
Galloy oversees all the university's sports medicine, but works directly with the athletes participating in golf, football, and men's basketball—a program that's seen tremendous success in recent years, making the NCAA tournament four of the last six years and competing in the finals twice, a remarkable feat for a school of roughly 4,000 students. Butler lost a buzzer-beater to Duke in the 2010 NCAA Finals which, some say, led to the 41% increase in freshmen applications the next fall.
"We compete with in-state basketball powerhouses like Indiana, Purdue, and Notre Dame for the best athletes," continued Galloy. "We want these guys to know we're investing in their health and that, when they choose Butler, they will receive care equal to or better than any other university. Strong aquatic therapy programs are becoming the 'norm' at schools in-state and across the country."
Athletes and fans have enjoyed the Hinkle Fiedlhouse for nearly 100 years. With a firm commitment to technology, training, and health, the historic arena is sure to delight its users—both athletes and fans—for many years to come