Creating a Senior Living Facility that Stands Out
The following blog post has been summarized from the recent article from Rehab Management, "Building Aquatic Therapy Programs in the Senior Sector."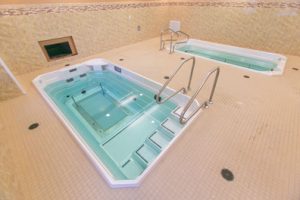 In this article, Kimmer O'Neill, Director of Therapy at Clear Choice Health Care in Port Charlotte, FL provides some great insight into how to build a rehab facility that doesn't just perform but it actually stands out. When Kimmer started at Clear Choice, she noted that they were offering the same rehabilitation services as many of the other providers in the area. It was apparent that growth would be difficult if they all offered the same therapies and outcomes.
Identifying a need in the community and focusing on a smaller niche provides the opportunity for growth and differentiation. For Clear Choice, Kimmer discovered that the two underserved aspects in healthcare in their community were pulmonary care and aquatic therapy. It soon became apparent that she could serve both by adding an aquatic therapy pool. With positive buy-in from doctors and other caregivers, Kimmer worked on building the two new programs:
"Water opened a world of possibilities to patients who were unable to do traditional, land-based therapy. Its buoyancy supports their body and provides low and no-impact resistance that helps them improve mobility, strength, and function more rapidly than with traditional therapy alone."
The staff at Clear Choice Health Care in Port Charlotte have seen many great results from their two HydroWorx 500 Series pools, including:
faster post-surgical rehabilitation
reduced inflammation
increased joint range of motion (ROM)
pain relief
enhanced mobility
improved muscle strength and flexibility
improved balance
effective cardiovascular training without wear and tear on joints
As Kimmer states in the article, despite having some impressive pool technology, it was still very important to market what they had. And not just that they had pools, but to get their referral sources to understand how beneficial their programs could be. They had to answer questions for the physicians such as:
Why and how would the new programs benefit their patients?
What would the outcome be?
How would it help their practices?
Her team decided which groups to target first and how to reach them. Face to face meetings and open houses were key pieces to the strategy. They even offered a training program for physicians.
"Those who viewed the new modality and learned about the program offerings were impressed."
With the implementation of aquatic therapy for pulmonary patients, there were natural extensions of the program into: multiple sclerosis, Parkinson's, balance and weight loss programs. For each of these programs, the team went through similar methods to reach out to referral sources and grow the programs. Once these programs were developed, Kimmer's team didn't stop there. They continually look for areas of improvement. Soon they realized they weren't confident in the type of care their patients were getting once they were discharged, so they looked into expanding into outpatient rehabilitation.
Kimmer explains that hiring the right team is critical to success. What makes someone "right?" According to Kimmer, "Applicants must convey enthusiasm for a specialty to be considered for the team."
The investment in aquatic therapy has contributed to significant growth. Kimmer describes, "We began with seven therapists and no specialized programs, no outpatient care. Today, the therapy team consists of more than 40 therapists. Approximately 1,200 aquatic patients per month are seen with more than 2,000 patients in outpatient care."
Learn more about the great things Kimmer and her team are doing at Clear Choice Health Care in Port Charlotte>>