Considerations When Choosing a Pool for Your Clinic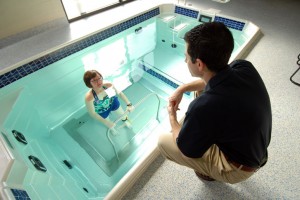 The following post is summarized from the recent article, "Taking the Plunge," written by Dan Seidler, PT, Owner of WSPT, and published in PT Products online.
Aquatic therapy can be one of the best modalities to provide improved outcomes and increased patient satisfaction, but it can also offer an additional revenue stream for a facility. Using aquatic therapy helps to establish a physical therapy clinic as the "facility of choice" in the area. Multiple patient populations benefit from aquatic therapy including those with issues such as chronic pain, obesity, muscle soreness and balance problems. The natural properties of water promote healing, decrease swelling, reduce the impact on joints and enhance cardiovascular endurance.
In the article, Dan Seidler discusses several considerations to look at before investing in any pool:
Staff training: A properly trained staff who understand the values of aquatic therapy helps to increase compliance and outcomes in the pool.
Maintenance: A commitment to making sure the pool is maintained on a  daily, weekly and monthly schedule is vital to being successful.
"Partner" relationship: Finding a manufacturer that feels like a partner in a facility's success, instead of just a vendor, and can help identify needs and provide good advice.
Durability: It is beneficial to find a vendor that is committed to service and offers a reliable product.
Return on Investment: Make sure to run the numbers and see the potential ROI for your facility. A vendor should be able to offer a detailed model with suggestions to make the pool successful.
Once aquatic therapy is integrated into a practice and patients begin to see benefits from the pool, additional programs can be added to provide additional revenue to the facility. At WSPT, multiple programs have been used such as wellness programs with private pay, youth swimming classes and group classes. These additional programs offer additional revenue and also enhance word of mouth marketing as people who otherwise would not be in the facility create a relationship with the practice.
To calculate your potential ROI from investing in a therapy pool, download our profitability analysis today>>