Consider Water Therapy for Tactile Defensiveness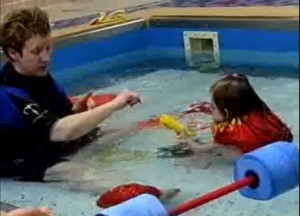 Water therapy may not be a "go to" therapy for tactile defensiveness, but a case study from our archives shows how it can have a significant impact on a child's progress. Tactile defensiveness is a sensory processing disorder in which the body perceives input differently and can make even the gentlest loving touch a traumatic experience.
In this case study, Helen, who has Down Syndrome, is extremely sensitive to touch, particularly on her hands, feet and orally. Touch in those areas would cause her pain and quickly distract her from an activity. After she had completed physical therapy, her land physical therapists suggested she try aquatic therapy to continue making improvements. Her aquatic therapist, Julie Mortenson, worked one-on-one with Helen to improve her ability to follow instructions and reduce the impact of the tactile defensiveness on her activities of daily living.
Using a HydroWorx 2000 Series pool at Children's Hospital in St. Paul, MN, Mortenson can put the water depth to even just a few inches to create a safe yet challenging environment for Helen to practice receiving sensory input while also doing other things. We typically think of using the underwater treadmill as a gait training modality, but in this case Mortenson set a goal of using the treadmill as a way to practice following complex directions with sensory input in a safe and balanced way.
This unique use of aquatic therapy and the HydroWorx pool is a great reminder of how a little creativity and a lot of hard work can have surprising and impressive results!
Watch Helen's story here: