Change Up Your Workouts with Underwater Boot Camps
Kathy Fisher, aquatic director at the Randolph YMCA in Randolph, NJ, describes the process for implementing and instructing an underwater boot-camp in the Feb/March Edition of AKWA Magazine, (The official publication of the aquatic exercise association). Fisher believes in the value of educating members on the benefits of water and why underwater workouts can be extremely effective. In the article, Underwater Boot Camp Getting Athletes Into Your Pools, Fisher states that members are beginning to realize two important concepts,
"One, most everything you can do on land, you can do in the water. Two, what you are no longer able to do on land, you can probably do in the water, and without pain!"
What is even more interesting is that individuals you haven't ran in over 20 years are running now and enjoying it too! Fisher even says that "they are finding that the addition of aquatic exercise has changed their lives!" These classes in workout pools have been the catalyst that has finally gotten strictly land based athletes into the pool. It is an energetic and challenging way to workout in a pain free environment.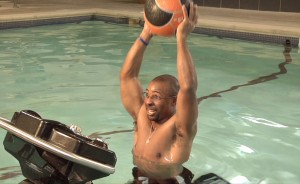 What is an underwater boot camp exactly?
One-hour circuit/interval class 

Begins with an explanation of exercises from the instructors (2) and participants are divided into 2 groups
12 total participants with two instructors
7-10 minute warm-up
Break into 4 smaller groups and begin 12, 3-minute intervals with a 1-minute rotation between sessions
Finish with a 5-7 minute cool-down and stretch.
Additionally, Fisher describes the importance of choosing a great instructor and the impact that can have on the program. It is important to think about the types of members you are trying to attract for this particular class and choose your instructor accordingly. These 'diversified programs' are a great addition to your facility or YMCA, because they accommodate the special needs of varying fitness levels, creating respect and increased participation.
Here is an example of an underwater workout from Kathy Fisher:
Warm Water Pool-Shallow Workout (3.5′-5′)
Intervals (12, 3-minute intervals):
Bike
Pedal hard for 3 minutes

Standing Postion II
Hover Position III
Strength with Buoyant Hand Bars
Alternating chest press

Bicep curl
Rotational twist
Treadmill
Overhead medicine ball walk or run

Interval sprints: 30 seconds on/30 seconds off
Lateral shuffle
Strength with Medicine Ball
Alternating shoulder press

Wood chops
Triceps press-downs (dribble)
Want to learn more about the benefits of running underwater? Here is a FREE DOWNLOAD of the Underwater Treadmill Running Book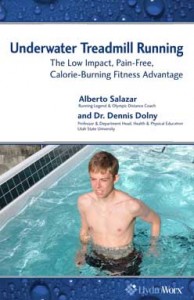 The Low Impact, Pain-Free, Calorie- Burning Fitness Advantage

By: Alberto Salazar and Dr. Dennis Dolny
Read Underwater Treadmill Running to learn more about the advantages of underwater treadmill running for training and conditioning. Download the book now>>