Carolina Village's Eight Pathways to Wellness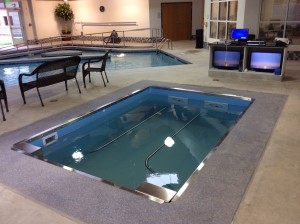 The following post is summarized from the recent article, "A holistic approach to wellness," written by Kevin Parries and published on the McKnight's blog.
The term "wellness" means different things to different people. At Carolina Village, a CCRC in Hendersonville, NC, "wellness" is made up of different pathways: physical, emotional, spiritual, nutritional, environmental, social, intellectual and vocational.
According to Kevin Parries, Executive Director of Carolina Village, they invest in programs and technology that contribute to these key pieces of wellness. Aquatic programs meet physical and social needs of their residents. They have two pools at their facility: a larger static pool and a smaller high-tech therapy pool. In the static pool, residents can enjoy group classes, swimming lanes, a resistance walk and a jacuzzi-like bench setting. This offers opportunities to increase physical and social components of wellness.
The high-tech therapy pool provides additional elements for exercise, rehabilitation and relaxation. Residents can run or walk on the underwater treadmill at varying speeds, with or without resistance jets. This customizable environment also includes an underwater video monitoring system, so users can view their gait and make any necessary corrections in real-time to improve posture, increase core strength and reduce their risk of falls. Because the water temperature is kept in the low 90s, residents with chronic pain or aching joints can relax and move more freely in the therapy pool.
The therapy pool is also used for rehabilitation and aquatic therapy to help those that may have ambulation issues due to injuries or surgeries. Using the warmth of the water, combined with the buoyancy and the underwater cameras, residents are able to gain greater ranges of motion, improve gait and increase cardiovascular endurance.
View this FREE On-Demand Webinar: "Influence of an Aquatic Environment on Cognition and Gait," presented by Dr. Eadric Bressel, Professor and Clinical Research Scientist in the Sports Medicine Program and Dr. Dennis Dolny, Department Head of Health, Physical Education & Recreation in the College of Education & Human Services at Utah State University.
Join biomechanists Eadric Bressel, PhD, and Dennis Dolny, PhD, to learn how research explains the differences among walking on land, in shallow water or on an underwater treadmill followed by results of the latest findings linking immersion in water to brain activity and possibly cognition. View this on-demand webinar here.