How Can Aquatic Therapy Impact an Already Strong Therapy Program?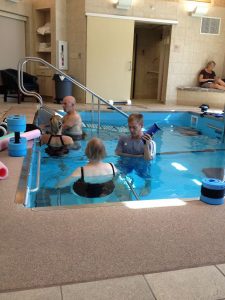 Many Continuing Care Retirement Communities (CCRC's) provide strong and thriving physical therapy programs for the residents in their community. Physical therapy can help individuals who need to regain strength after a hospitalization, improve balance to prevent falls, or recover after surgery. A well-established, successful physical therapy program can be a benefit to a senior community. To stay successful, the community must always be improving, evolving and keeping up with technology to make sure the therapy program continues to stand out.
Despite being armed with a talented staff and a great physical therapy program, Presbyterian Village North in Dallas, TX was still losing patients to another facility nearby that offered additional therapy options, namely aquatic therapy. Recognizing the opportunity to grow, Presbyterian Village North saw the potential to take their care to a new level with an technologically advanced aquatic therapy pool.
They have seen tremendous results from the addition of the HydroWorx 3500 Series pool and are thrilled with the financial impact it has had on their community. A few tips that Presbyterian Village North provided in a case study profiling their success include:
Create your pool schedule well in advance for better staff coordination.
Make transportation easy.
Have an aquatic therapy champion.
Experiment with best times of day for your patients.
Know who your pool is intended for.
Educate your admissions department.
Presbyterian Village North has seen dramatic improvements in their Medicare census, RUG scores and revenue.
"The pool's impact has been several fold, from a quality standpoint it's greatly improved our ability to serve a much wider array of patients. We get patients that no other facility can take because of the pool's capabilities. From a financial impact, it's been huge. It's dramatically increased the number of patients we do serve. We've also become a preferred provider at many of our hospital systems because of this pool." – Godwin Dixon, President & CEO
To learn more about their thriving therapy program and get tips on how to succeed with aquatic therapy, download our program profile on Presbyterian Village North>>