BUY ME SOME PEANUTS AND CRACKERJACKS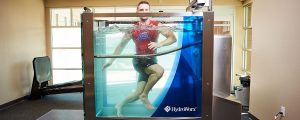 Even the best athletes in the world say hitting a breaking ball is among the top feats in sports. Its players are diverse; it's hard, symmetrical, logical and dramatic.
It's baseball!
And the season has officially begun.  For the next seven months we'll watch highlights of the boys of summer duking it out on the diamond.
At HydroWorx, we have a longstanding relationship with baseball. Having worked for scores of years with teams like the Padres, Reds, Mariners and White Sox, we understand the importance of conditioning athletes prior to the season and helping them stay healthy through the grueling 162-game regular season and, hopefully, beyond.
However, if you've followed spring training this year, you've seen players already sustaining injuries. Check the twitter feeds of your favorite MLB beat writer; you'll find scores of accounts of calf sprains, shoulder cuff injuries, UCL tears and more.
HydroWorx in the training room can help.
Patrick, MLB assistant medical coordinator said,
"We use the HydroWorx pool for guys who have difficulty completing their conditioning test or assessments when they arrive for Spring training due to repetitive issues with low back pain and shin pain or some other precluding issues, aside from the normal conditioning assessment testing. We do shoulder programs and fluid-resistance programs on our upper-extremity injuries, most frequently as a change of pace day or recovery day with their post-operative elbows and pinned shoulders."
James, head AT coordinator said,
"We use our HydroWorx pool probably more for rehab because it's located in our main rehab facility. But we still have guys use it quite a bit for conditioning, players who just want to change things up. We had one player who had microfracture surgery on his knee. In the pool we got him moving and weight-bearing a lot earlier than we would have without it. Same thing with our standard ankle sprains and hamstrings. Because of the water buoyancy, they can go through a portion of the gait training in the pool much earlier."
Herm, head athletic trainer, uses the pool differently for young players and aging players:  
"For the younger fellas, we'll take them off the field if they are having some shin splints and get them into the water. With ankle sprains, we'll get them in the water almost immediately to try to get the proprioception going in a controlled environment. The water becomes the bridge from rehab to land work.

For the more mature players, we do what we can to lessen the impact on their back, knees and ankles, so now and then we put them in the pool to get their cardio training in the water. We vary the current  speed or the treadmill speed, and add in other resistance as needed."
Murphy Grant, MS, ATC, NASM-PES, CES of the University of Kansas suggests drills that can be done underwater for baseball players. Here are a few of the ones he recommends to take advantage of the properties of water:
Decline press
Base pulley rows
Lateral raise
Posterior lunge
Shoulder extension
Wood chops
Single-leg box jumps
Many ball players find that their underwater treadmill workouts produce a renewed sense of strength in their legs, abdomens and upper bodies. The frontal resistance engages the upper body and core and forces the athlete to focus on his posture and ambulation.
See more reasons why baseball trainers love the HydroWorx pools>>
As the athletic trainers do their part to keep their ball players healthy and on the diamond, we hope you're there, enjoying a hotdog and soda with a good friend.