Bilateral Hip Replacement On-Demand Webinar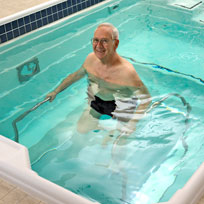 On July 23, 2015, Mark Glod, PTA at Peak Performance Physical Therapy in Lynbrook, NY, presented a webinar about a bilateral hip replacement case study. Mark shared insights into overcoming obstacles when creating and implementing an aquatic therapy program for a bilateral hip replacement patient.
The main scope of patients seen at Peak Performance Physical Therapy includes orthopedic rehab, spine, back, gait and balance programs. They have multiple locations, with their main location in Lynbrook, NY housing a HydroWorx 500 Series aquatic therapy pool. The pool gives them a competitive advantage and helps to increase referrals.
Components of a typical aquatic therapy program at Peak Performance include:
Warm up
Muscular strength and endurance
Upper body strengthening
Lower body strengthening
Core Strengthening
Upper/lower body combined exercises
Mark reviewed the rehabilitation of a specific bilateral hip replacement case study. The patient was a 53 year old male who had a severe case of arthritis. He was a jogger and in great shape prior to the surgery, which helped his healing process. His initial evaluation was 6 weeks post-op and they found that he had post-operative pain, gait deviation, hip weakness, limited ROM and difficultly negotiating stairs.
The patient did extensive research on potential clinics at which to undergo his rehabilitation and ended up choosing Peak Performance, which was a 1 hour drive each way, because of their great reputation and aquatic therapy program.
His goals from his rehabilitation were to resume jogging as soon as possible, navigate stairs again, eliminate his limp, increase muscle strength and endurance, and return to his prior level of function.
After just 6 weeks of his rehabilitation at Peak Performance, the patient's surgeon was extremely impressed with his progress in such a short period of time. He was doing the things the surgeon wasn't sure he would be able to do again. He continued his aquatic therapy at Peak Performance in order to accomplish his goals.  Not long after his 6 week evaluation he was discharged because he had met or exceeded all of his goals!
Watch the full webinar to learn more about the aquatic program used for his rehab.
Watch the webinar on-demand here>>