Bilateral Anterior Hip Replacement Recovery Using Aquatic Therapy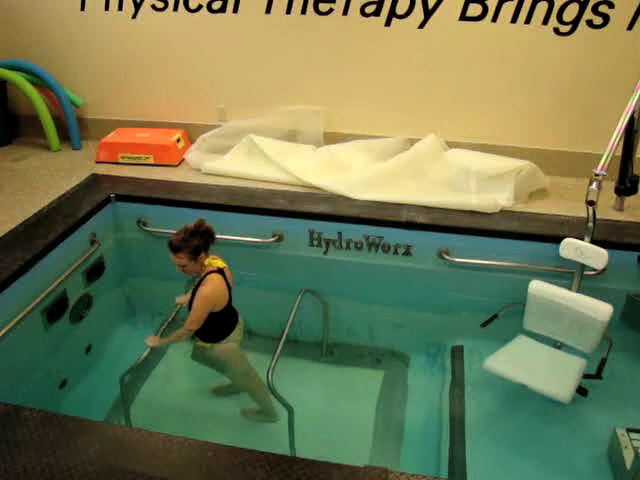 Andrea Brewer, 54, is like any other person who likes to spend time doing things that they love: from horseback riding, skiing, to performing her daily duties as a physical therapist. Things changed, however, once Andrea made the decision to have Bilateral Anterior Hip Replacements.
Teresa Kropp, a physical therapist at Orthopedic Rehab, Inc, worked with Andrea throughout her rehabilitation process.
When Andrea started therapy, she couldn't get in and out of the pool without using the chair lift. During the first few sessions she would work on doing calf raises and squats and walking on the underwater treadmill. For a period of time, aquatic therapy was really the only thing she could do without pain.  After only a few sessions in the water, Andrea was able to enter and exit the pool using the steps and handrail. She was also able to start walking backwards and sideways on the treadmill.
I have done a lot of pool therapy in the past professionally, and with the use of the treadmill it was amazing how quickly I could not only get in to the pool but climb out of the pool. The HydroWorx pool with the treadmill is absolutely incredible!

-Andrea Brewer
Some of the protocols that Teresa worked on with Andrea included:
Stationary marching to allow for good posture and to start training her muscles to do the work
Forward and backward walking on the underwater treadmill once she was able to move in different directions
Toe raises to strengthen calf muscles
Squats to strengthen muscles in thighs and knee support
Hip abduction and adduction
Hip flexion and extension
Passive and active stretching
Massage to increase circulation and break up scar tissue
As a physical therapist, it was easy for Andrea to identify the advantages she gained from using the HydroWorx pool for her early rehabilitation. Some of these advantages included an increase in flexibility, balance, control coordination, muscle strength and firing pattern. These valuable improvements transferred to her performance of daily activities on land.
Learn more about Andrea's case and watch the protocols she performed in the videos below: