Behind the Scenes set-up of the Underwater Marathon
What exactly does it take to set-up an Underwater Marathon? Since it's never been done before, we got to forge some new ground last week setting up the event.
Here's a list of what it took to set-up the First Ever HydroWorx underwater marathon:
3 Pools
18 Treadmills
5 Tractor Trailers
1 Crane
3,200 Feet of Power Cord
5,750 Feet of Hydraulic Hose
33,000 Gallons of Water
139 Feet of Graphical Banners
25 People
24 Hours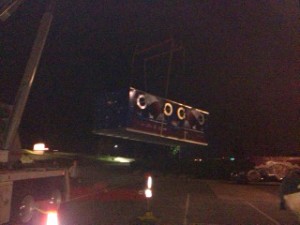 In addition to the equipment and man hours, this event was successful because of a team filled with passionate people. The team that was formed to produce this event consisted of HydroWorx, The Eagle Fund, Athlete's Performance, Troeg's Brewery and The Andrew's Institute. The goal: Raise money for The Eagle Fund, which offers our special forces rehabilitation and therapy opportunities in order to get back as quick as possible to serve our nation.  With this amazing team, along with our participants and the generosity from numerous volunteers we were able to put together an amazing day.
Thank you again to everyone who supported, participated, donated and helped out! Without you, this event would not have been the same!