A Behind-The-Scenes Look at an Athlete's Road to Recovery.
Both the men's and women's NCAA Final Four tournament is around the corner, professional basketball finals are on their way, professional baseball's opening day was just this weekend and many spring sports are beginning their seasons. It is exciting to hear all of the success stories of teams and athletes during this time. Unfortunately, we are often flooded with negative highlights as well, including the inevitable injuries that occur in athletics.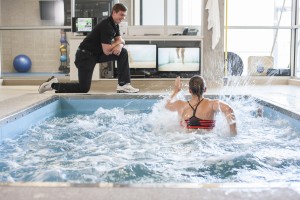 What we do not hear about very often are the athlete's personal struggles that come with having an injury and working through the lengthy rehabilitation process. We hear about the initial injury and then their return, but very seldom are we allowed a behind-the-scenes look at their mentality and what keeps them pushing each day in the gym and in their therapy sessions.
Moonrider Productions did a special video feature titled, "This is the Untold Story of Sport," about an athlete recovering from an injury to capture this view that we often do not have the privilege to see. Wes Knight, a soccer player, partially tore his ACL in college in 2008 before he became a professional and then a few years later his ACL fully tore which required reconstructive knee surgery and an intense road to recovery. This athlete's struggles, challenges and mindset are not rare. Many athletes that deal with these same things, we just never hear about them. This video is an amazing inspiration and look at the resiliency of an athlete.
I'm living in this zone of where no one sees what you're doing on a daily basis to recover. Teams are signing guys up and you, the injured player, are here in your little bubble away from everyone and everything you are used to. The comfort of team and camaraderie. And it's just you. Everyday it's up to you to get up and get to the gym and give an honest effort even when you don't know if you're ever going to play again.
Knight is hoping to make a strong return and big impact on the field when he returns. He is doing everything in his power accomplish his goal.
How is he doing it?
Well it requires a lot of work, time, effort and energy combined with perseverance and a positive mental outlook. There is a lot of 'mind over body' that must take place, in order for him to push through those tough workouts on land and in the HydroWorx pool. This video and Knight's recovery take place at the elite Fortius Sport & Health in Burnby, Canada, home to a HydroWorx 2000 Series pool.
Watch the full video here and share your thoughts with us on Facebook and Twitter.