Architect Q&A: Senior Living Rehab Design Highlights Underwater Treadmill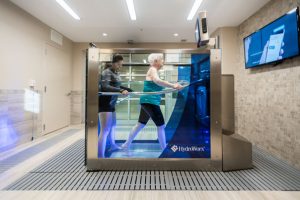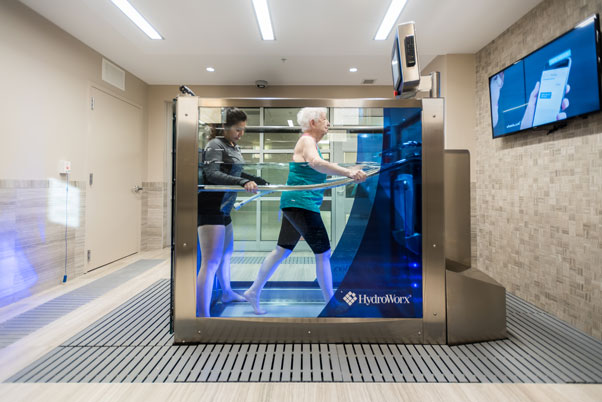 Every once in a while, you come across an architect that pushes the envelope to develop unique designs for our customers as they create spaces within their facilities for our pools. Some of these designs (and designers) garner their fair share of praise among industry experts as they forge new pathways to problem solving, ingenuity and innovation.
One such example is a new design for the HydroWorx 300 unit at the Actors Fund Homes in Englewood, New Jersey. Jordan Strohl, administrator, worked with architect Steve Leone, Principal, Spiezle Architectural Group, Inc. in an effort to accentuate the unit's sleek design. Placement, functionality, accessibility and many other considerations came into play while working out the space's design.
Steve took a few moments with us recently to discuss the project:
HydroWorx: Was the innovative design something that you suggested, Jordon suggested, or a collaboration?
Steve Leone: It was very much a collaboration. With any project, you start by asking the stakeholders some questions. This HydroWorx 300 will be a showpiece of the rehab gym, located as a focal point at the front entrance. We wondered how we could take this machine and make it look as if it were a built-in feature, revealing no signs of the equipment used to make it work. Architects are a bit vain. We don't like to see the guts if it's not intentional; we like things to look pretty. Jordan was of that same mindset.
HW: What were some of the challenges in hiding the equipment?
SL: Having a flush entrance was important because we didn't want to ramp around the system: we weren't delighted with that look. That led us to recess the unit and since the slab had not been poured yet, we were timely in changing those details. But with that change came additional need for details not required or previously considered if only setting the unit on a slab. For example, if we had to recess it, we needed to find ways to drain that recess. There are a good 12 inches around the entire unit that would allow any type of water spill to drain into that trench.
HW: Did you draw on experience from other similar projects?
SL: We hadn't done anything like this before. This was the first time we've utilized HydroWorx in a project and the first time we'd set anything like it within a slab.
HW: What are the key design solutions that went into the overall design of the HydroWorx area?
SL: The primary design intent was first and foremost to highlight the unit as a primary feature of the entire rehab unit. Thereby, the details included placement in a high visibility location, utilizing as much glass looking obviously as if it was built-in, not brought in after the fact. One of the key issues to resolve when creating the trench and the drainage area was the grate material that covers the trench. Obviously, we would create a hazard if we didn't cover the trench, but in the same vein, the trench had to be open enough to capture any water. It needed to have enough slip coefficient so that people don't slip and yet, the coarseness had to be such that it wouldn't be a hazard for an elder to stub or scrape a toe. We looked at several types of products and surfaces until we found what worked.
HW: How did you work with Jordan's team to determine their specific needs for the project?
SL: We met with them several times and discussed multiple variations. There was continual dialogue, evaluating the various scenarios. We have a very close working relationships with all of our clients, Jordan especially. He completely engages in the details of the conversation. It's very easy to get creative and find interesting design solutions when your client shows that type of exuberance and excitement.
How do they plan to use the pool at the Actors Fund Homes?
Wellness, rehab, inpatient and outpatient usage. It's a big deal for all involved to make this a real focal point. Marketing is a very strong part of designing these facilities; family members come around to assess the value of the facility, as they perceive it, so it's imperative to highlight the most important aspects of the facility.
"You have to gain people's interest initially, but you also need the backup that supports true wellness and rehabilitation. The HydroWorx unit is the best of both worlds. It's immediate eye candy but also makes perfect sense because of what it does, putting less stress on the joints you're trying to rehab." 
Are there any specific design innovations you'd like to highlight?
I think the recessing of the tub itself, then creating a concealed wiring and tubing that goes back to the filtration system behind the wall. Really, all you see through the glass wall is the sleek unit and a feature wall with a TV monitor on it.
How was your experience with HW in delivering the finished outcome?
HydroWorx was very proactive in getting us the information we needed. Also, the therapy staff from the Actors Fund Homes and others from my team had the opportunity previously to see the 300 unit when the mobile showroom came this way. The therapy staff actually got in and tried the unit. To see it, touch it, feel it first hand, that helped us understand its capabilities.
Thanks Steve and Spiezle Architectural Group for delighting our customers. We appreciate your tremendous attention to design as well as functionality.