AQUAWORX: IMPROVING LIVES IN LOGAN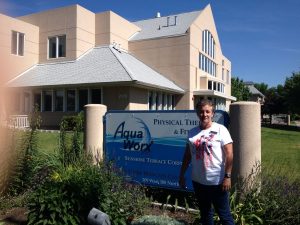 We love our customers!
Earlier this month we checked in with Michelle Harmon from AquaWorx in Logan, UT. Michelle has been with AquaWorx, the outpatient rehab center affiliated with Sunshine Terrace, for 15 years. She advocates aquatic therapy and health for the aging population as well as anyone she knows!
Michelle filled us in on the latest happenings in this rehab center with a family feel.
Squawks and Squats
"One gal has been coming in for about a year and a half to use the pool. It started with some intense prodding from her neighbor; she'd been to Salt Lake, seen a few specialists, but hadn't had any real relief from general weakness, pain, stenosis and arthritis. Not hoping for any significant improvement, she came to AquaWorx just to shut the neighbor up," laughs Michelle.
"Just this week I went into the pool room to talk with my therapists and this patient yells, 'Hey Michelle, you've got to see this!' She tells the therapist to bring her up, out of the water (AquaWorx has a HydroWorx 2000 Series pool with movable floor and underwater treadmill) and she starts showing me squats! She was so excited. That type of strength increase—that's impactful in someone's life. She has no more back pain and has regained mobility. We're thrilled to be part of it."
Rock Steady Boxing
Michelle and AquaWorx are masters of implementing programs that effectively serve their clientele. Rock Steady Boxing, a 501 C(3) organization, gives people with Parkinson's disease means to improve strength, flexibility and lessen the symptoms of the disease through a non-contact boxing-based curriculum. Michelle and others from her team are certified to teach this class, adding to their clinical toolbox.
"This program has brought many new clients through our doors; they see our offerings then join the gym and utilize the HydroWorx pool. One of my friends initially brought her Dad here for the boxing class. Now they come four times a week to work out, use the pool and attend class. She's seen their lives improve greatly."
"We want to have lots of tools to help people," Michelle continues. "The pool is invaluable. Combined with the programs we offer here, you can't get this type of care anywhere else around here. We've created a family environment here and our patients trust us."
Feeling better, not worse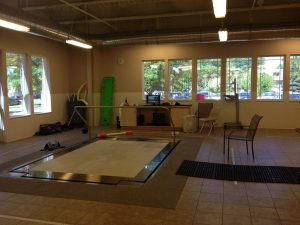 AquaWorx has a goal for each patient visit: that the patient feels better, not worse, while onsite and also after their visit. Sometimes that's difficult, given the severity of patients' limitations and treatment.
Michelle explained that patients bear only about 20-25% of their body weight when in chest-high water. When that weight is removed, espeicially with arthritis sufferers, aquatic therapy helps them move more freely without pain. Working out in water helps them improve range of motion, cardiovascular fitness and even balance. The water also helps with circulation; blood moves into areas which are generally more difficult to access when gravity and joint compression prevail. The warm water helps to relax muscles and increased resistance helps to gently strengthen the muscles around any injured areas without exasperating the arthritis. This leads to a decrease in pain while in the water and, many times, a decrease in pain for several days after treatment.
Colin Liston, AquaWorx PTA echoes Michelle's enthusiasm for the HydroWorx pool and underwater treadmill: "We see so much progress with patients in the pool. It's bar-none one of the best transition tools, getting patients many times from a state of hopelessness to a state of being able to resume land therapy."
Thanks, AquaWorx for keeping the seniors in Cache Valley mobile, happy and strong!