Aquatics for Track & Field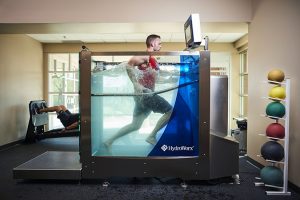 As with many sports, aquatic therapy and its prowess as a game-changing modality has influenced world-class track & field athletes.
Underwater treadmill training is trusted across running circles from professional running teams, such as the Oregon Project, to college track and field teams, like Liberty University, to recreational runners needing a low-impact alternative to high mileage. While it can be used as a rehabilitation tool after injury, it is often used as an additional training tool for healthy runners.
Why do water and running mix so well? Alberto Salazar, coach of the Oregon Project, explains this thoroughly in the book, "Underwater Treadmill Running." Here are a few noteworthy nuggets:
Water provides low-impact, low-weight bearing exercise, minimizing the risk of injury or undue stress. The buoyancy of water reduces the forces that so often "jar" muscles, ligaments, tendons and bones, lessening the long-term burden on runners' bodies.
Water's hydrostatic effect increases thoracic pressure and therefore underwater treadmill runners can benefit from superior cardiovascular conditioning. Also, due to hydrostatic pressure, runners will not suffer from muscle soreness as the venous return process is aided by water's pressure to clear metabolic waste during exercise in water.
Water enables different muscle recruitment patterns compared to land. Many runners find that their underwater runs produce a renewed sense of strength in their legs, core and upper bodies. For instance, on land, the runner's arms can pump relatively freely through the air; in the water, it's more difficult and requires additional muscular strength and agility.
Water jets add resistance. In a pool with a variable-speed underwater treadmill, water can be pumped using directional water jets to add resistance to a runner's workout. Studies demonstrate that using a water jet setting at 50% created an added metabolic requirement equivalent to running about one mile per hour faster.
Water exercise improves the psychological state. For injured athletes, being able to keep up with their fitness levels provides a marked measure of relief, assuring them when they return to health, they will not have lost fitness. Also, athletes who have reached a fitness plateau benefit from a change of environment and more miles without further join stress.
"Even if I'm sore or injured from running outdoors, I can jump in the pool and run without an issue. Underwater treadmill running has transformed me as an elite athlete." – Galen Rupp, Olympian and USATF record holder
The late Dr. Dennis Dolny wrote in 2012, "Who could have imagined a generation ago that we would discover a fitness tool that mimicked the advantages of land-based running without burdening the body?"
Dr. Dolny was right. Water allows athletes to reduce jarring, improve their cardio position, recruit new muscles, experience more resistance, and improve their phycological state. It is a training tool that—when used properly—gives athletes an opportunity to improve training without increasing risk.
Download the book "Underwater Treadmill Running here>>
Page Updated on: June 16, 2020