Aquatic Therapy Tips:  Dominate Your PT Clinic Niche by Treating Athletes
Many physical therapy (PT) clinics that offer aquatic therapy have discovered that treating athletes can be a lucrative way to dominate their market share.  Whether the athletes are "weekend warriors" – those individuals of all ages who have a penchant for working out but aren't making money on their sports – or elite professionals, they can boost a PT clinic's revenue stream considerably.  The secret is to understand what they want, how to woo them and how to keep them involved.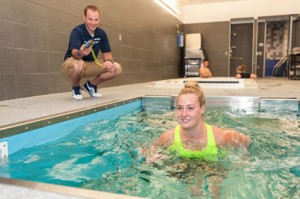 What Athletes Want to See in a PT Clinic Environment
Athletes who are looking for a PT clinic for rehab or performance training purposes may come from a wide array of backgrounds.  Many aquatic therapy professionals work with high school athletes, triathletes, competitive runners and even pros.  However, most of these athletes share common needs when it comes to working within a clinical setting that offers aquatic therapy and exercise.
In general, athletes of all ages and representing all stages want a setting that provides them with:
Creative Solutions.  For instance, many athletes may not be able to come to the facility during traditional 9-5 working hours.  To attract them, it might be necessary for the clinic to extend its hours or stay open for one weekend day.
Competitive Programs.  Athletes are competitive by nature, so their rehabilitative and training solutions need to represent their penchants for competitiveness.
Rehab for Common Athletic Injuries.  These can include sprains, strains, knee problems, Achilles tendon injuries, fractures, dislocations, repetitive stress injuries, shin splints, hip problems, plantar fasciitis, ankle issues and the after-effects of reconstructive surgery.
A Well-Rounded "Menu" of Services.  Giving athletes a customized "menu" allows them to pick out what they want and need in an a la carte way.
A "Give-and-Take" Experience.  Athletes are often determined to continue activity, even if they are injured.  Physical therapists have to be open to this fact, and willing to work with – not against – athletes' desires.
Private Pay Options.  PT clinics working with athletes must create private pay options, because not all athletes will have the insurance to pay for the therapy they need.  Additionally, if the clinic offers exercise classes or opportunities for athletes to work out in a HydroWorx pool, customers will need to know how payments can be conveniently made.
Support and Encouragement.  What athletic person doesn't want a cheering section?  Positive feedback from a clinician who understands the mindset of the athlete is essential to keeping the motivation factor high when challenges, such as overuse injuries or surgery rehab, are faced.
Ironically, changing the average physical therapy clinic atmosphere into one that athletes find attractive can prove challenging.  In the end, though, it will help not only the clinic's new clientele reach their goals, but also the clinic's team members learn and try new aquatic therapy and physical therapy methodologies.
How to Woo Athletes to Your Physical Therapy Clinic Setting
A promotional plan is necessary to make athletes aware that the clinic is focused on offering creative, aquatic therapy solutions that will fit their needs. Some of the marketing techniques that have worked well at clinical facilities across the country include:
Advertise locally to inform the community of services, including gift certificates.
Offer pre-paid punch cards with a discount (e.g., a free visit after 10 paid visits.)
Work with a local running club, triathlon club or other team and offer member's discounts.
Provide student discounts, and advertise them at local competitions.
Provide a free in-service at the PT clinic at the start of a sporting season (e.g., track and field, football, basketball.)
How to Keep Athletes Coming Back to Your Clinic… and Talking about It, Too!
Once athletes are accustomed to coming to the clinic, the marketing shouldn't end.  After all, the more they become attached to the clinic and its underwater treadmill and facilities, the more likely they are to share their success with fellow athletes.  Encourage current clients to talk about the clinic's offerings, and prepare brochures and sales documents for them to distribute.  Make sure coaches are kept "in the know" about the clinic's open houses and other special events related to physical therapy and exercise for athletes.
By remaining innovative, physical therapy clinic owners and personnel can greatly increase both their community visibility and their competitive advantage with some well-thought-out targeting of the athletic market in their areas.
Free Webinar: The Use of Aquatic Therapy for Neurological Rehabilitation
On January 27, 2015 from 1:00pm-2:00pm EST, join Jan Black MS, PT, Clinic Director at NeuroWorx in Logan, UT, as she discusses the value of aquatic therapy for those affected by neurological conditions. This webinar will explore the application of neurological rehabilitation principles in an aquatic environment including locomotor training to accelerate progress and improve outcomes for gait, balance, kinematics and overall functional mobility.