Aquatic Therapy Speeds Up Post-surgery Rehab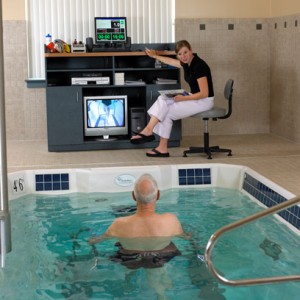 There's always a little good and a little bad with having surgeries.  The benefit of having surgery for an injury is to ultimately fix and repair that injury, and hopefully live pain-free. However, following the surgery comes, what has been known as the, 'painful recovery process.' But HydroWorx aquatic therapy offers hope and pain-free rehabilitation options.  Using water therapy can also speed up your overall recovery time.
For starters, patients who choose aquatic therapy can begin their rehab program sooner, typically 3-4 days post surgery. Beginning therapy sooner, decreases swelling and discomfort allowing the patient to unload their body weight and move freely in the warm water.  Additionally, it minimizes the loss of range of motion and muscle strength.
Water therapy offers post operative patients the opportunity to experience an earlier level of rehabilitation and activity compared to waiting until they can bear their weight on land. Therefore, patients reap the benefits of not losing their muscle strength or range of motion and it decreases their pain level while improving function. A German study published in the Archives of Physical Medicine and Rehabilitation indicated that getting patients moving in the pool within six days of their surgeries was the ideal timeframe for maximum benefits. 
Watch a case study of unexpected results post-surgery! The video in our video library,"Lumbar Fusion" is about a wheelchair-bound patient following lumbar fusion surgery who used a HydroWorx 500 Series pool for aquatic therapy. Nolan Arieta, the physical therapist, discusses how his patient achieved his goals of walking on land using just a walker and walking up a flight of stairs with minimal assistance. The progress and accomplishments that his patient made using aquatic therapy are truly remarkable.
Starting rehab sooner sometimes requires a patient to begin therapy before an incision site is fully healed.  Using bio-occlusive dressing works great for a safe and effective way to get patients moving in a pool. Watch this video on applying bio-occlusive dressing to a wound before starting aquatic therapy.