Aquatic Therapy Provides Hope for Obese Patients
Although obesity is becoming an epidemic in America, many people do not look to aquatic therapy as their first option for weight loss and getting healthy. A recent statistic from the Centers for Disease Control and Prevention (CDC) shows that more than one-third (36.5%) of American adults are considered obese. People who are overweight may suffer from physical ailments such as joint and back pain, fibromyalgia and arthritis.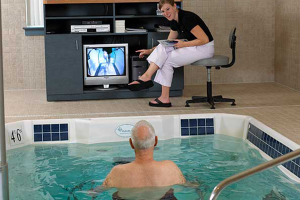 Certainly, lifestyle changes such as exercise and diet are typically the first ways to try and manage weight, however, these patients may find exercise daunting or painful. For these people, aquatic therapy may be the answer.
In a recent newsletter from Good Shepherd Rehab, Cynthia Bauer, PT, DPT, OCS, Director of Musculoskeletal Outpatient Services, said in regard to overweight patients, "Aquatic therapy helps patients with different medical diagnoses to exercise safely because the water supports the body weight and reduces pressure placed on joints. Many patients enjoy doing standing exercises in the warm water environment, which is challenging but less stressful. The patients also like that they are exercising alongside others with similar conditions."
Request a Free Info Kit     View Our Products     Find a Pool Near You
In the same article from Good Shepherd Rehab, they offered some suggestions for safe pool programs to offer clients:
Ai Chi
Aqua Yoga/Pilates
Arthritis Pool Program
Learn to Swim
Learn to Exercise
Pediatric Pool Program
Here are some stories of patients who benefitted from using aquatic therapy to create a better lifestyle:
85-year-old lost 35 lbs. Margaret was faced with two knee surgeries and the task of losing weight. She arrived at Pieters Family Life Center in Rochester, NY where she began water walking and exercising her way to a 36-lb. weight loss. She not only created a healthy and active lifestyle change but she found a social connection with everyone in her aquatic exercise classes. Begin the process of exercising like Margaret – 1 to 2 times a week for 30 minutes.
Business Man Juggling Work and Family Lost 50 lbs. Ken gained weight due to working long, strenuous hours for his job and then coming home in the evenings to a busy family. He wasn't able to find time for himself until he began working out in ACCUA's HydroWorx pool. His goal was to lose weight in an efficient manner, maximizing his exercise time. In six months of working with the staff, Ken lost over 50 pounds and made amazing, healthy progress.
Researchers have found that underwater treadmill training is a viable alternative to traditional land treadmill training especially for overweight adults. Exercising on an underwater treadmill in an aquatic environment reduces body weight, improves body composition and increases aerobic capacity without dietary intervention.
Not only does underwater treadmill training provide impressive benefits, but it is often a more comfortable form of exercise due to the reduced body weight and greater range of motion afforded by the buoyancy and warmth of the water.
Some of these research studies are quite lengthy, but we have compiled numerous research studies into one page summaries to make the information easier to digest.
Are you interested in learning about more proven benefits for underwater treadmill exercise? Download the Research Studies book today!
Request a Free Info Kit     View Our Products     Find a Pool Near You


Page Updated on: July 9, 2020