Easing Joint Replacement Patients Into Physical Therapy With Aquatics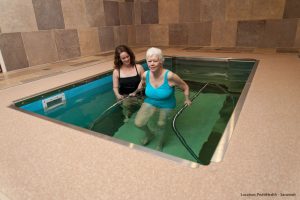 With the United States currently experiencing considerable growth in the 65 and older population, more replacement surgeries are being performed every year as a result of aging. In addition to the older population, people in younger age groups may require surgeries as a result of work or sport-related injuries. Whether they are knee, shoulder, ankle or hip surgeries, physical therapy is normally required for weeks or months following the operation. Depending on the patient's age and severity of the surgery, some physical therapy programs are daunting and painful for the patient. An excellent alternative to the typical rehabilitation process is aquatic therapy.
Download a tip sheet on using aquatic therapy for joint replacement patients>>
The ultimate advantage of aquatic therapy is the ability to do exercises and movements underwater that are normally done on land, but with less pain and a better range of motion. Patients can sometimes begin aquatic therapy just days after their surgery. Performing rehab in water helps the patient both mentally and physically. The buoyancy of the water creates a weightless sensation as if they are just a fraction of their true weight. This allows them to put pressure on the injured area without feeling the pain that they would normally have out of the water. Not only are the patients becoming stronger and regaining movement, but they also have the confidence when they get out of the pool to continue on the road to recovery. Aquatic therapy has been gaining popularity in recent years and its countless benefits are finally becoming more known in the medical and rehabilitation fields.
A few of the other benefits of aquatic therapy include:
Pain and discomfort reduction
Less swelling for more mobility and movement
Faster turnaround times for patient from injury
Less stress on joints
Ability to begin therapy just a few days after surgery, despite weight-bearing restrictions
Often after a reconstructive surgery the patient must relearn how to do every day tasks such as walking, sitting or even standing correctly. Unfortunately a quick and speedy recovery is easier said than done and may become a vigorous process. Patients may tend to lose confidence due to the constant pain and slow progression of normal physical therapy methods. Aquatic therapy performed in warm water allows for a faster recovery time and a sense of comfort and accomplishment for the patient.
HydroWorx has installed pools throughout the country at various senior living communities, physical therapy clinics, hospitals and a variety of other locations. The people providing the treatment love the pools just as much as the patients do! Physical therapists have the ability to either get in the pool with the patient or instruct from the edge of the water. They also have the expertise and creativity to try new things with the endless possibilities of water treatment. Aquatic therapy is an innovative and emerging rehabilitation trend that has produced positive results in a shorter time frame than typical land therapy.
To learn more about how aquatic therapy can impact joint replacement, chronic pain and arthritic patients, download our tip sheet>>