Aquatic Therapy Improves Daily Life for Back Pain Sufferer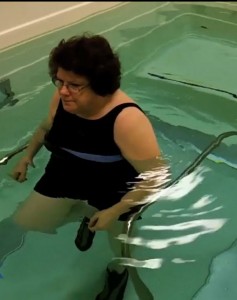 Chronic back pain is a common problem among adults. In fact it is estimated that 80% of the population will deal with back pain at some point in their lives. Back pain can be caused by any number of factors.
For Laura Wohl, back pain is caused by multiple factors including a herniated disc and severe kyphosis. A herniated disc occurs when the soft gel within a spinal disc, which acts as a shock absorber, leaks into the spinal canal. This puts pressure on the nerve(s), resulting in pain radiating down the affected nerve. While pain is the most universal symptom of a herniated disc, pain from a thoracic herniated disc is often perceived to be originating from one's chest or belly due to its radiation down the suppressed nerve.
Determining causation of the thoracic herniated disc is essential before treatment of pain and any related symptoms can take place. Many thoracic herniated discs are caused by excessive, but gradual wear and tear, also known as degenerative disc disease. Herniated disks are frequently the cause of spinal deformities as well. A severe kyphosis is an extreme rounding of the spine causing a stooped posture. A kyphosis is most common in older women and often occurs after osteoporosis weakens spinal bones to the point that they crack and compress.
Ultimately, these conditions cause Laura severe chronic back pain that limits not only her performance at work, but her daily activities as well. Laura's doctor recommended aquatic therapy due to the fact that she had become completely unresponsive to land therapy and steroid injections. Laura began therapy at Premier Rehab in their HydroWorx 500 Series pool in order to improve her performance at work and at home. After only 17 sessions, Laura was discharged from Premier Rehab noting a great decrease in pain and an increase in ability to stand and perform everyday tasks.
Laura, her physical therapists and her doctor were very pleased with her progress and recovery. Laura's typical therapy session consisted of:
Marching
Heel Raises
Alternating Arm Flexion and Extension
Horizontal Abduction and Adduction
Windmills
Hip Abduction and Extensions
Hip Flexion and Knee Extensions
Mini Squats
Rowing
Lateral Up and Over's
Isometric Dumbbell Holds
Upper Limb Rotation
Walking Backwards
Walking
Side Steps
Learn more about Laura's condition and watch her aquatic program here:
For more videos like this one related to back pain, please visit our video library>>