Aquatic Therapy Has A Purpose For Everyone
The following post has been adapted from the original article published in PT In Motion Magazine.  The original article, titled Making Waves With Aquatic Therapy was written by Lisa Ianucci and can be viewed in full here!
Physical Therapists are beginning to turn to aquatic physical therapy more and more as a way to treat patients with myriad health conditions. Based upon the interviews with numerous PTs for this article, all have stated that water therapy has proven to improve joint pain, muscle spasms, osteoarthritis, rheumatoid arthritis, fibromyalgia and much more.
Yasser Salem PT, PhD, associate professor in the Department of Physical Therapy at University of North Texas Health Science Center states:
"Over the last 20 years, a substantial body of evidence has accumulated to support the use of aquatic therapy for children and adults with musculoskeletal, neuromuscular and cardiopulmonary disorders. Also, adults who have had strokes, multiple sclerosis and Parkinson disease can benefit from aquatic therapy to improve balance, strength, walking functional abilities and their ability to perform activities of daily living."
One specific example of the life changing abilities of water comes from the Walter Reed National Military Medical Center in Bethesda, MD.  At Walter Reed, aquatic therapy is used to treat many of its military patients with injuries from lower back or knee pain to post-operative total joints. Additionally, they treat soldiers from Afghanistan and Iraq who have experienced limb loss, traumatic brain damage, and many other severe injuries.
Allison Hoy, PT, at Walter Reed, discusses how aquatic therapy has helped a 28 –year-old Marine who suffered multiple injuries as a result of an IED blast in Afghanistan.  She says, "Rehabilitation in the water allows him to work on his balance, core stability, strengthening, and cardiovascular endurance without the difficulties of being full weight being."  What is even more incredible is that the prosthetists at Walter Reed constructed a prosthetic leg for the patient to use in the pool and he has been able to work on his balance and gait training as well as learning how to swim again!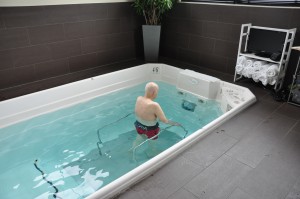 In addition to helping patients with various health conditions, Mike Studer, PT, NCS, CEEAA, president and co-owner of the Northwest Rehabilitation Associates in Salem, Oregon, discusses how he believes his HydroWorx pool help extend the longevity of athletes.  He says this type of training could potentially add, "10-15 or more years" onto a player's career. However it is important when working with athletes to discuss with them that the healing process takes time, therefore education and communication with athletes is vital.
Sarah Killian, PT, MSPT, ATRIC, has worked with a wide range of athletes as well.  She discusses the high level of cardiovascular fitness and core stability that aquatic therapy offers its users.  The athletes are able to work out at the same levels underwater, without their bodies risking the possibility of further injury. Mike Studer tells PT in Motion that moving forward; he would like to see the HydroWorx underwater treadmill use become even more widespread in physical therapy interventions, as would we!
"The benefits of new technology with the classic principles of aquatic therapy enable us to be even more intense and specific.  This gives us an excellent option of an environment to help some patients improve faster and more completely."
This article is full of  incredible success stories and benefits of aquatic therapy. To read the full article, click here!