Aquatic Therapy Fits Many Needs for this Professional Baseball Team
The following post is summarized from the recent article, "Aquatic Rehab for Athletes," written by Ryan Bitzel, PT and published in the March edition of Advance for Physical Therapy and Rehab Medicine.
Ryan Bitzel, PT and current Rehab Coordinator for the San Diego Padres, dives deep into his love and appreciation of water. "I've seen water do wonders for athletes trying to rebound from an acute injury and for athletes needing to condition in a low-impact, nearly pain-free environment."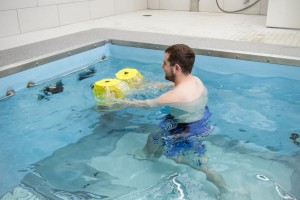 Bitzel began his professional career working in a clinical setting that offered aquatic therapy. Because of that early introduction to the power of water, Bitzel became an advocate for warm water therapy early on. He saw the impact those tools had on his patient population firsthand and even saw patient's rehab time frame decrease when they used water.
Five years ago Bitzel joined the medical staff for the San Diego Padres as the rehab coordinator. At the time he started working with the Padres they were in the process of renovating their spring training facility in Peoria, AZ. This facility features, among many unique rehabilitation tools, a HydroWorx pool with an underwater treadmill, resistance jets, video monitoring system and much more.
Having this piece of technology at their fingertips has provided numerous benefits for a multitude of conditions and uses. Bitzel uses hydrotherapy for injury rehabilitation, recovery and conditioning.
Achilles Injuries: When the Achilles tendon ruptures, aquatic therapy can help promote healing whether or not surgery is needed.
ACL injuries: Using the pool for ACL rehab has decreased the standard time frame due to water's natural gift of buoyancy. In the water, the athlete's body weight is reduced by as much as 90%, depending on water depth. Bitzel shares that he has athletes who have undergone ACL reconstruction and the use the pool for plyometrics. The athletes are able to work on form and absorption techniques much sooner in the water than on land which helps the athlete not only physically but emotionally too.
Shoulder injuries: Bitzel uses the pool for numerous shoulder injuries because water provides natural resistance which produces muscle strengthening. They use water dumbbells and jet resistance to strengthen the shoulders. Making figure-eights or external rotation helps promote range of motion and strengthening as well.
Hamstring injuries: Hamstring and groin injuries are very common among athletes and can linger for long periods of time. Bitzel has found water to be effective in treating the hamstring strain due to the resistance and buoyancy it provides. Athletes can perform single-leg balance exercises and striding drills in the water as part of their rehab because it is virtually pain free in that environment.
Conditioning: Bitzel also uses their pool for training and conditioning. Underwater running enables athletes to engage the same muscles as land-based running, but without the stress. For injured athletes, keeping up with their cardiovascular fitness levels can prove to be a challenge. But they can feel confident that workouts on an underwater treadmill with resistance jets will help them maintain — and possibly increase — their cardiovascular fitness levels.
The most rewarding aspect of my job is seeing players return to the field. One question every injured athlete asks is, "How long will my rehab time be?" Of course, my answer varies based on many factors. But seeing guys put in their best effort while benefiting from the most advanced technology available definitely makes my job as a physical therapist fulfilling.
Read the full article today>>
View this FREE On-Demand Webinar: Addressing Potential Misconceptions about Training with Aquatics
Presented By: Lance Walker, Global Director of Performance for Michael Johnson Performance
The benefits of aquatic therapy are becoming increasingly widely accepted. However, there are still some commonly held beliefs about the limitations of the use of aquatics, especially for athletic training and sports performance. In this webinar, Lance Walker, Global Director of Performance at Michael Johnson Performance, will review some of these potential misconceptions, and to what extent his considerable experience with using aquatics as part of his training program has supported or contradicted them. View the on-demand webinar here.