Aquatic Therapy Center Opens at Cedar Village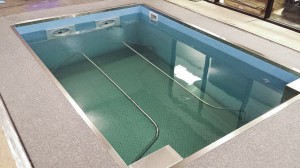 The following blog post has been summarized from the recent article, High-Tech aquatic therapy center opens in Mason, published on Cincinnati.com. 
Cedar Village Retirement Village located in Mason, OH recently opened a high-tech aquatic rehabilitation center (The Jewish Foundation of Cincinnati Aquatic Therapy Center) to complete phase 2 of their rehab services expansion. The Aquatic Therapy Center includes two HydroWorx 1200 Series pools which will be used for rehabilitation for patients of all ages, along with a large recreational pool for group therapy, aerobics classes and lap swimming.
The HydroWorx 1200 Series pools offer movable floors that raise for easy entry, even for those with mobility problems or even in wheelchairs. The entire floor also doubles as an underwater treadmill for proper gait training and exercise. Underwater cameras allow physical therapists and patients to view their underwater movements and make immediate corrections when necessary.
On October 24, 2014, the complex was dedicated with donors, community leaders and staff present for the event. Tours were given so that everyone could see the amenities in action at the impressive facility. Debi Tyler, the rehabilitation director at Cedar Village stated:
We're thrilled with the reaction we've received from people who have toured the Aquatic Therapy Center. Over the years, our patients have told us repeatedly that they love the care they receive from our expert, compassionate staff. This new facility will help us provide even better service to our patients and help them heal even more quickly.
Congratulations to Cedar Village on their new facility!
To learn more about why water worx for senior living services, download our tipsheet>>