Aquatic Therapy Benefits for Active Aging Seniors
Aquatic therapy is one form of treatment we see physical therapists embracing and adapting to their patient's plan of care with great outcomes and satisfaction. Aquatic therapy offers a unique opportunity to place therapy patients in a safe, comfortable environment that challenges patients while minimizing their pain, soreness, and swelling. Although aquatic therapy has been highly used for pediatrics and high-level athletes, we are seeing a jump in utilization from senior living communities throughout the country to help promote healthy and active aging.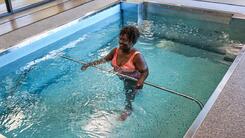 Wellness and aquatic therapy programs are becoming an expectation for today's active aging seniors. Research on healthy aging reveals that seniors who embrace daily wellness and therapy receive and feel significant benefits. Senior living communities utilize aquatic products for wellness and therapy because of the benefits of water. Not only do individuals receive healing properties from water submersion, participants are relaxed and able to safely and freely move without having to worry about falling or pain. This has greatly increased the patient compliance to return for additional treatments as well as their commitment to overall wellness and active aging. A few benefits from aquatic programming:
Improved quality of gait and range of motion
Improved cardiovascular endurance
Increased overall muscle strength and balance which leads to a decreased risk of falling
Decreased depression and anxiety
Boosted cognitive functions
Now more than ever, physical therapists and wellness directors have become a shining light for the active aging population. We have been able to see the passion these healthcare providers have for ensuring quality of life while striving for each individual's highest potential. We want to express our deep appreciation and gratitude to all of the physical therapists, physical therapy assistants, wellness directors, and all other healthcare professionals who have been on the frontlines during this global public health crisis.