Aquatic Prehab Exceeds Expectations for Saint Alphonsus Patient
Prehab is one of the biggest emerging trends in the field of physical therapy and healthcare. Boiled down, it's the science of getting patients physically ready to not only handle a surgical procedure, but to prepare them for better post-surgery rehabilitation outcomes. The thought process behind "prehabbing" four to six weeks prior to surgery is to accelerate the speed at which patients will heal post-surgery.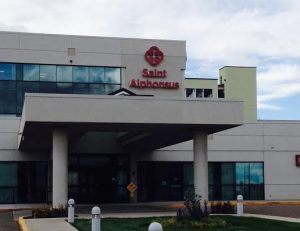 At Saint Alphonsus Rehabilitation Services (STARS) in Nampa, Idaho, Dan Shaw, Physical Therapist and Site Manager believes strongly in aquatics, including for his prehab patients. That's why he encouraged his administration at the health system to purchase an advanced HydroWorx therapy pool. Yet with all his experience in the realm of hydrotherapy, he couldn't have predicted what happened for one senior who was sent to him for prehab.
Shaw's patient was scheduled for a total hip replacement. This procedure is not unusual for certain populations, and is often the best solution for individuals with arthritis affecting their hips. Over time, the hip ball-and-socket joint deteriorates to the point where hip replacement surgery is considered the most reasonable way to give the patient a better quality of life.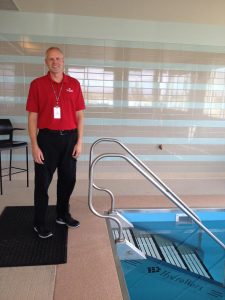 In the case of the Saint Alphonsus patient, he was directed to Shaw due to an impending total hip replacement. The patient's physician believed that prehab in the therapy pool would strengthen his muscles and perhaps increase his flexibility. At his first visit, he could barely walk on land due to intense pain and he couldn't even stand on one leg.
Shaw was familiar with patients with these symptoms and was confidant the pool was a great option. He and his team got the patient in the buoyant pool atmosphere and the results were better than expected. After a few sessions in the HydroWorx unit, the patient was so excited by his progress that he asked his doctor if he could have a few more sessions before his surgery. The doctor agreed.
Within 6 weeks, the surgery was postponed!
This case of hydrotherapy prehab, while rare, illustrates the excitement of working in the aquatic therapy field. For Shaw, it was a pivotal moment because he realized just how far-reaching innovative hydrotherapy could be for individuals. If someone like his patient who had very limited movement on land was able to avoid surgery after a few months of aquatics, it's reasonable to assume there are similar possibilities for others.
With the considerable expense of surgery, it's uplifting to see that some surgical procedures can occasionally be avoided with the use of aquatic therapy. Will the patient eventually require a total hip replacement on one or both hips? Perhaps. However, thanks to his experience with Shaw and Saint Alphonsus, he's been able to avoid more invasive treatment and live more comfortably day-to-day.
These inspirational stories showcase the power of therapy pools and equipment, especially in the hands of open-minded professionals like Shaw and his colleagues. We're thrilled to be a part of another patient's successful achievement and motivational prehab story. 
To find out more about Dan Shaw and his clinics please visit www.starspt.org.