Aquatic Exercises for UCL Rehabilitation
In a recent webinar, Jeremy Braziel, ATC, LAT, FMS, SFMA, CES, TPI-CGFI, TPI-JC2, a Clinician at the Shoulder Center of Arkansas, located in Fayetteville, Arkansas, discussed specific and practical exercise strategies utilizing aquatic therapy that can be applied at various stages of a UCL injury rehabilitation protocol. Jeremy discussed how these strategies have been developed to safely, efficiently and effectively bridge the gap between rehabilitation and return to throwing for athletes.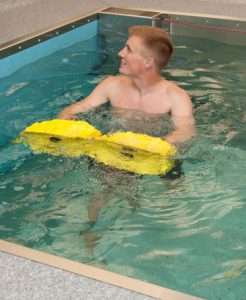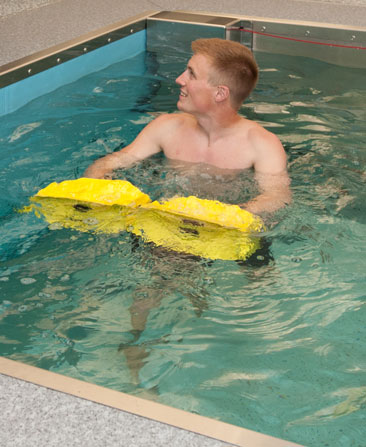 Ulnar collateral ligament (UCL) injuries are becoming increasingly common, especially in throwing and overhead athletes. Currently, 65 – 75% of baseball players encounter injury. These injuries often require surgery and can lead to lengthy recovery times. Jeremy discussed how to effectively integrate aquatic therapy into a UCL injury rehabilitation program in order to improve outcomes in the webinar titled, "Utilizing Aquatic Therapy for UCL Injury Rehabilitation."
During his webinar, Jeremy shared that an incredible 5,000 professional baseball players surveyed in the 2012 season were experiencing UCL injuries or tears, and of those, 16% were pitchers, including 86% of which experienced surgery while in the pros and 61% had surgery while in high school. The highest rate of shoulder and elbow pain was in collegiate baseball with 36% of which created time lost and complaints. The most staggering statistic is the increase in UCL injuries from 7% of players between 1994-1998 to 26% now.
View this FREE webinar on-demand.
There are many rehabilitation considerations before beginning the process of getting the athlete back onto the field including: age of the athlete, appropriate exercises for the injury, time of the year the injury took place. Clinicians and physical therapists need to determine the plan of care for the athlete based around considerations before creating the plan of care:
Type of repair or reconstruction
Position and level of play
Elbow position and exercise
Underlying factors (such as the ones listed above)
Rotator cuff and forearm conditioning
Proprioception
LE and core
Based on the assessment, the next step is evaluating how to incorporate aquatic therapy into the rehab. Jeremy and his team at the Shoulder Center of Arkansas utilize the underwater treadmill and resistance jets in their  HydroWorx 500i Series as a part of their plan of care to offer an "out of the box" option for their athletes. Jeremy discussed the benefits of aquatics for his plan of care:
Different, protected environment
Dynamic medium for advanced progressions
Reduction of compensatory movement patterns
A challenging workout in a forgiving enviornment
Uniform resistance
Ability to perform a unique array of exercises in one location with minimal to no equipment
Jeremy shared over 20 exercises in his presentation and included clips of the demonstrations to show the audience the benefits of the movements for his athletes. Some exercises he displayed while using the underwater treadmill, resistance jets and other aquatic tools included:
Kickboard Twisters
Frisbee Wrist Flexion
Supine Abduction
Resistance Abductor Position
Triple Threat
Ball Drops with Ring
Lateral Shuffle with Core Activation
To watch the demonstrations of each exercise, view this FREE webinar on-demand.