An Exciting Track and Field Weekend Coming Up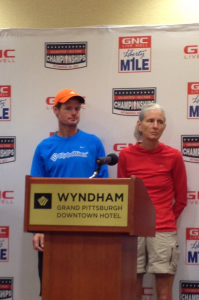 If you follow track and field at all, you know the upcoming IAAF World Championships  starting tomorrow are the next best thing to the Olympics.  And we're plenty excited to see how Mo Farah, Galen Rupp and the rest of the Oregon Project team do in their races.
BUT we, at HydroWorx, are equally excited for Masters Runner, Nick Berra, who is competing tonight in the USA Masters 1 Mile Road Championships in Pittsburgh, PA.  Berra is an avid HydroWorx user for much of his training, especially when dealing with nagging aches and pains. He has had a busy summer with plenty of races, which can wear on the body after a while.  For the past month or so, he has backed off of the road and done the majority of his training underwater according to his recent post, "Summer Summary".
60 minutes in the pool has been my go-to workout, but to break it up and add some quality I have been throwing in some HydroWorx interval sessions when I can.
As we see time and again, continuing to train at a high level without adding stress to the body can often be invaluable.
We are amazed at what Nick has accomplished as a Masters Runner – his 800m win earlier this summer was nothing short of impressive. Watch the June 23 race here.
Tonight Berra will race in the GNC Live Well Liberty Mile, with a shot at the overall Masters prize – Good Luck Nick!