Alberto Salazar Shares Why He Believes the Average Runner Should Train Underwater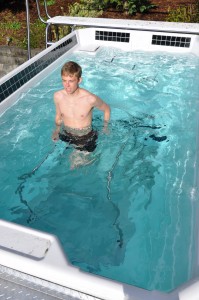 Alberto Salazar knows running. He knows it extremely well.  He has won both the New York City and Boston Marathons, Comrades Marathon, and has set records in the 5,000M and 10,000M races.
As the Oregon Project coach, he has the ear of some of the best runners in the world, such as Mo Farah (Olympic and World Championship Gold Medalist in the 10,000M and 5,000M) and Galen Rupp (Olympic Silver Medalist in the 10,000M).
And although the rest of us may not be heading to the Olympics anytime soon, the beautiful thing about the sport is that any healthy person can do it to some level. Whether training for your local 5K or the Boston Marathon, many of the techniques that the pros use can apply to the average runner looking to increase their performance.
Salazar uses underwater running for his professional athletes and describes some reasons why he feels underwater running is important for any healthy runner (not just an injured runner).
Why is Running Underwater Important?
 The overall training affect of running underwater can be harder than running on land. You can get a very good workout in a short period of time running underwater.
 There is no pounding or shock on joints, tendons, ligaments and muscles. It's a way to get in a really good workout without feeling tired or beat up. Get in more miles, running and training without the extra pounding.
 Mentally and psychologically, it is refreshing. People feel rejuvenated and relaxed when they're in the water – it has a soothing, calming effect.
ways runners should use underwater running as a part of their training
As a supplement to bridge the gap between a runner's top safe mileage and their competitor's mileage.
As a method of strength building.
Salazar strongly believes in underwater running for his healthy athletes to improve their performance. His runners use it as a part of their training to supplement their weekly mileage by safely increasing their training without increasing a risk of injury.
Watch his video to see Salazar's thoughts on why underwater running can be useful for the average runner: