Active Aging Week: Tuesday is Falls Prevention Day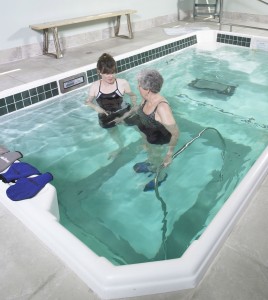 The theme of this year's ICAA Active Aging week is "Let the Adventure Begin!"  According to their website, "Active Aging Week is an annual health promotion event held each year during the last week of September. The weeklong observance celebrates adults ages 50 and older as fully participating members of society and promotes the benefits of leading an active, healthier lifestyle. It also highlights the ability of older adults to live well, regardless of age or health conditions."
Today is "Falls Prevention Awareness Day." According to the US Centers for Disease Control and Prevention, one-third of Americans aged 65 and older fall each year with up to 30% experiencing fall related injuries that negatively impact function and independence. Muscle weakness and gait impairments are the most common causes of falls in all older adults.
But, falling does not have to be an inevitable result of aging. Through evidence-based interventions, comprehensive wellness programs combined with simple lifestyle adjustments can substantially reduce the number of falls among adults. Recent research published by Utah State University in the International Journal of Aquatic Research and Education shows how aquatic therapy can improve balance in aging adults. Based on their findings, they concluded that the inclusion of aquatic training is an important consideration as part of a comprehensive training/rehabilitation program. Developing stability through exercises that are characteristically unstable improves neuromuscular coordination and postural control strategies as well as reduces risk of falls.
Addtionally, research done at Texas A&M University shows greater lean muscle mass increases when resistance training is used in combination with aquatic treadmill training than with land treadmill training.
Creating balance and strength training programs with an aquatics component can yield valuable results. We recently posted about an article written by Jackie Halbin, who is a Living Well Manager at Lakeview Village in Kansas and Master FallProof and FallProof H2O instructor and is Aquatic Exercise Association-certified. She says:
"Thus far, there has been an overall 45 percent increase in center of gravity, 64 percent increase in lower body strength, and 35 percent increase in agility in participants, thanks to the program and the therapy pool."
To learn more about Why Water Worx for Senior Living, download our tip sheet with more fall stats as well as the financial impacts of reducing falls>>