Active Aging: Aquatic Therapy Helping Body, Mind and Spirit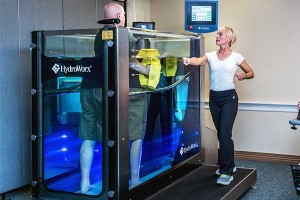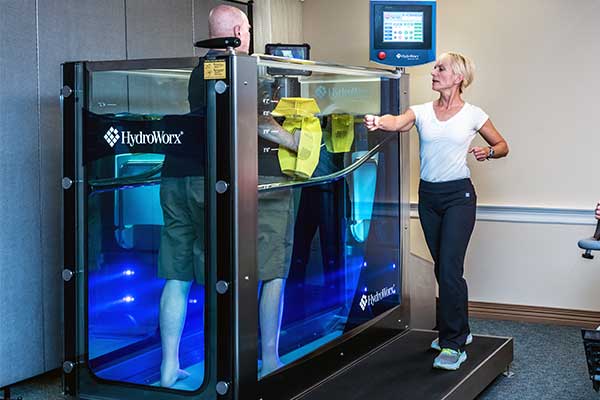 It's Active Aging week! Celebrate with us, the International Council on Active Aging, and seniors everywhere to promote healthy living in body, mind and spirit.
Each year during the last week of September, the International Council on Active Aging promotes the benefits of a healthy lifestyle by giving older adults the opportunity to experience diverse activities and exercise in a safe and fun atmosphere. Local hosts, such as churches, gyms, senior living facilities, and community centers create group walks, volunteer events, and health fairs to promote the benefits of living a fit life, every day.
Kim Eichinger, Executive Director of Fitness for Country Meadows Retirement Communities and ICAA 2016 conference presenter, spoke with us briefly about the benefits of HydroWorx, aquatic therapy and its benefits as we age.
What do your clients like about the water?
People are very eager to come to our facility to get into the warm water. You see the sighs of relief as they step into the water and move down into the pool. Aquatic exercise in general has really gained popularity in the past few years. People are recognizing that you don't have to be a swimmer to enjoy aquatic exercise. Aquatic exercise gives people another form of resistance to work with and the fact that it unweights their joints and offers the buoyancy is a huge plus.
Why is the underwater treadmill an important feature in the aquatic environment?
When walking in a pool, people tend to toe walk. The buoyancy lifts them on their toes and they tend to change their posture a bit; the buttocks floats up and the chest comes forward. Sometimes folks don't use their arms as much as they should. But the treadmill really encourages that heel-to-toe walk, not shuffling or toe walking.
When patients use a walker, they start to lose the little natural swing of the hips and movement of the arms and the walking becomes more rigid. So when we take someone from that situation and put them on the underwater treadmill, we can start to reintroduce that swinging of the hips and movement of the arms, getting a bit more movement in the trunk. And they feel safe because of the water, the buoyancy, the handrails. There's no risk of falling. Having the treadmill also gives us a feature that not everyone has and this brings people into our community.
Tell us about someone who's life was changed from the use of your pool.
A gentleman I work with needs a cane to walk on land. When he got on the underwater treadmill the first time, he was able to walk unassisted. Then, over time, that walk led to a trot and the next thing we knew he was jogging. That was an incredible experience for all of us and really boosted his self-esteem because he never thought he would be able to do something like that again.
How does the pool help seniors progress socially or emotionally?
We have a lot of classes at our facility, including aquatic classes. People get really social in the pool and look for support from their peers and the opportunity to socialize while they exercise.
Emotionally, we serve many residents who used to be runners or walkers but now can't handle exercise on land. Some of our residents have been very, very active throughout their lives and because of their aging joints, they just need some adaptive exercise to help them feel "themselves." We're able to help them, offering a service in our community that is unique.
Country Meadows is family managed and 100% family owned with communities throughout Pennsylvania. Kim serves as the Executive Director of Fitness and has been working in the fitness industry for over 30 years.
For more information on aquatic programming for seniors, please watch this webcast on demand: Successful Aquatics Program for Seniors