Achilles Tendon Webinar On-Demand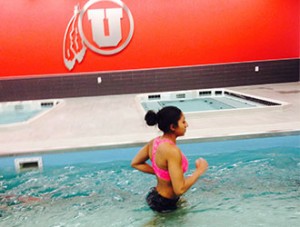 On September 24, 2015, Katherine Lorens, from University of Utah in Salt Lake City, UT, presented a webinar about the post-operative rehab of a Division I gymnast who suffered a torn achilles tendon. The rehab took place in their HydroWorx 2000 Series pool. Katherine shared details and videos of the protocols used during the rehabilitation and the results of their efforts.
The case study was of a 20 year old female gymnast who had been competing for 16 years. This athlete had a history of multiple injuries on her left foot including plantar fascitis during her freshman year which limited her to bars and beam to help manage the pain. During her sophomore year, she had left ankle pain which was attributed to bone chips found during an X-ray, possibly from previous ankle sprains. They taped her ankle for the season and she was not able to do any tumbling or vault. After that season, she had surgery to remove the bone chips. As a result of being in a walking boot after surgery, her plantar fascitis pain was also completely relieved.
She was prepared for the following year and trained in all 4 events. However, right before the first meet, suffered a mid-level calf strain with deltoid ligament damage. She was again limited to beam and bars until she was fully healed. During a double-back on her floor routine warm-up on the first meet of the following year, she tore her Achilles tendon. She was scheduled for surgery the following Monday.
Since it was a clean tear, the surgery only involved suturing the two ends together. After surgery she was placed in a booth with a heel lift. She was limited to non-weight bearing activity for 6 weeks, and once the sutures were out, rehabilitation began by focusing on ROM and strengthening. From 4-6 weeks post-op, she spent 5 days a week in the therapy pool, using an aqua jogger belt to remain non-weight bearing while maintaining cardiovascular endurance and strength.
Once she was cleared for partial weight-bearing, Katherine had the gymnast begin with some simple weight-shifts and balancing exercises with the water at chest height to maximize her buoyancy. They progressed these protocols by adding variables such as increasing resistance with jets, closing eyes, throwing and catching a ball and walking. They also decreased the water level to gradually increase her weight-bearing.
She also started walking on the underwater treadmill with water at chest height and progressed to sprint workouts by adding jets, increasing treadmill speed and decreasing water depth. At the same time that the sprint workouts started, the athlete began performing plyometric exercises in the water. Progression timelines were determined by the athlete's comfortability with the protocol and pain level.
This gymnast was able to start training fully with the team at 8 months post-op, which is 3 months sooner than a typical recovery from Achilles tendon surgery without the use of aquatic therapy. Because of her work in the water, she was also able to do a calf raise 2.5 months sooner than the doctor expected.
As a result of the efforts by the training staff at the University of Utah, the gymnast was able to compete in the 2015 season on bars and beam and as back up on vault and floor. She was an All-American and All PAC-12 on bars. She is training to be a part of the all-around team for her 5th year.
Watch the webinar on-demand to see examples of the protocols used and to learn more about her rehabilitation>>