A Year in Review: Top 5 Most Popular Blog Posts
One thing we enjoy is being able to provide blog posts to educate and entertain our readers. It is always enlightening to discover which blog posts seem to be the most popular at the end of the year because it helps us understand what our readers are interested in. Based on our viewing stats from the past year, we know that people love posts about business tips, orthopedic conditions and inspiring recovery stories.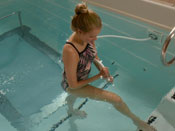 Here were the top 5 most read blog posts this year:
"Aquatic Therapy Helps Parkinson's Disease Patients." Water boasts unique properties that enable it to be used for both therapy and fitness, especially for those who cannot comfortably move on land, as is often the case for people with Parkinson's. One of the biggest fears a patient has during traditional land therapy is falling and being seriously injured. However being in the water reduces that fear greatly. Even if a patient does stumble, the risk of injury is minimal. Besides giving the patient some ease of mind, in the water, low-impact exercise is possible and is easier to perform than on land. A variety of Parkinson's disease therapy exercises are possible with aquatic therapy and can be selected depending on what will work best for the patient. This post and the on-demand webinar referenced, made it possible for therapists, personal trainers and group fitness instructors to maximize the properties of water and have new opportunities to creatively challenge clients with Parkinson's disease.
"The Power of Water to Heal a Shoulder Replacement." Veronica Paquette, PT and Owner of Essex Aquatic Rehab Center in Vermont, discusses how the pool is an ideal environment for shoulder rehabilitation. A patient of hers, Wally Stein, had a total shoulder replacement and began his work in the pool with Veronica just one week following surgery. In three short months, Wally stated that he feels 100% again and is now able to do more than he was 20 years ago. Wally attributed his fast recovery and increased shoulder and upper body strength to the HydroWorx pool allowing him to continue to increase his range of motion and perform rehabilitation activities that he wasn't able to do on land.
"Becoming the Clinic of Choice" was summarized from "Finding Your Niche: Designing and growing innovative programs," written by Dr. Michael Velsmid and published in the October issue of IMPACT Magazine. Dr. Velsmid states, "To woo clients to your clinic and highly trained individuals to your staff, it is essential to uncover your niche as well as establish innovative programming." He goes into more detail suggesting that it is important to try to separate your clinic from others by offering therapies and experiences that competitors are unable to provide.
"Aquatic Therapy Rehabilitation for Total Knee Replacement." Coping with knee pain or knee injuries can be both physically and emotionally exhausting. Clinical studies have proven the benefits of exercise in a warm water environment when recovering from knee surgery. In this post, readers learn the benefits of aquatic therapy for knee replacements with a case study from Kansas Joint and Spine Institute of patient who got in the pool for therapy just 4 days post-surgery.
"Using the Power of Water for Knee Rehabilitation." This is a specific case study, about a young athlete recovering from a total knee reconstruction surgery. The patient, Meghan, suffered a severe knee injury while playing soccer where she tore her ACL, MCL, PCL and her medial meniscus. Following the surgery, Meghan was referred to Essex Aquatic Rehab Center where she began her aquatic therapy outpatient rehab program with owner and head PT, Veronica Paquette. After just one week in their warm water therapy pool, Meghan improved to 100 degrees of knee flexion. Additionally, because of the progress Meghan made in the pool during her first week, she no longer needed her crutches when walking on land! She also discusses in the video that the level of discomfort is minimal to none when moving her knee underwater, compared to the pain she experienced on land.
Tell us your favorite blog post in the comment section below!