A Salute to the Unsung Heroes of Athletics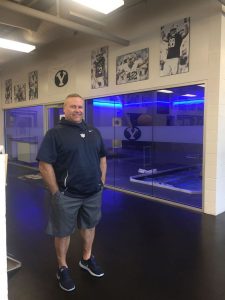 Ryan's worked with the team's third baseman for months following an Achilles repair. He's seen him progress from weeks of no ambulation to walking in the pool, then running; from walking on land, then hitting and running bases. Now Ryan watches on a monitor from the training room as his athlete enters the stadium for the first time in months, to cheers and an RBI. Mission accomplished.
As we head toward the end of March, it's time to give a shout out to one of the most important facilitators of the HydroWorx mission—athletic trainers (ATs).
Who are athletic trainers?
The short answer is the National Association of Athletic Trainers (NATA)'s slogan for 2019's National Athletic Training month: "ATs Are Health Care."
Athletic trainers collaborate with physicians and assist in all aspects of health care, from preventing injuries before they happen to rehabilitating athletes to help them back to top form, and everything in between. They are certified, licensed health care professionals who have a bachelor's degree or higher;  the American Medical Association recognized athletic trainers as an allied health professional in 1990. There are roughly 26,000 ATs around the country and that number is expected to hit 30,000 in a few years. They are front-line health care professionals used by multi-million-dollar athletes as well as high school athletes.
Athletic trainers are most successful when they have a plethora of tools at their disposal, helping them discover the most effective modality for each situation. Aquatic therapy tops that list of desired modalities for many ATs.
A few words from some ATs regarding HydroWorx products:  
"It works wonders in terms of making that transition from running in the pool and then getting them on land." -Scott Taka, Athletic Trainer for Chicago White Sox
"Every single one of our student-athletes gets in the water. Every one. It is a definite part of our mindset at KU. No matter the injury, we will get you in the water." – Murphy Grant, KU
"The multifaceted functions of the HydroWorx 2000 gives us the ability to have a player move more quickly and effectively in the earliest stages of post-surgery recovery, and that accelerates the rehab process. Being able to raise and lower the floor creates easier, and earlier, access to a post-surgical exercise session.  That, combined with the floor movement, water flow resistance, and digital video observation of an athlete in motion creates a much higher level of productivity and expedites healing and recovery."   —Britt Brown, Associate Athletic Trainer/Director of Rehabilitation for the Dallas Cowboys.
"This gives us a great advantage to be able to put our injured athletes underwater so they can continue to exercise and get the conditioning and training that they need to get back to sport." – Justin Bland, Associate Athletic Trainer, Jacksonville Jaguars
A long-time relationship with water  
Aquatic exercise and hydrotherapy have had a home in healthcare for well over 100 years and its popularity continues to grow. Below are several reasons why athletic trainers are partial to aquatic therapy and HydroWorx technology:
Resistance jets allow for greater intensities of rehabilitation in water while maintaining orthopedic restrictions, stride cadence or cumulative stress on joints, without sacrificing calories burned or muscle activity.
Sport-specific drills such as backpedal, side shuffle, power skips, single and double leg hops, can all be performed without restrictions. Athletes can begin sport-specific drills in the water before cleared for land-based activity.
The Underwater video option offers immediate feedback to the athlete and athletic trainer for gait education.
The unloading of body weight provides for pain relief and joint protection.
Hydrostatic pressure reduces swelling, improves blood circulation and enhances recovery due to decreased lactic acid build-up.
Athletes can perform exercises at greater intensities in water vs land in order to reverse deconditioned state.
As statistics predict, the need for qualified athletic trainers is sure to grow; they are the men and women in the trenches, helping our favorite athletes get back out there to hit, dunk, steal, swish and shoot to the thrill of everyone watching. Thanks, athletic trainers, for your first-rate work.
Learn more about athletic training and aquatic therapy>>