8 Ways to Ensure Aquatic Therapy Success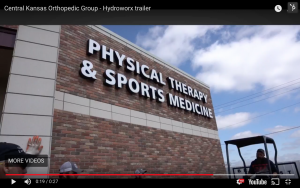 The following blog post has been summarized from the recent article from PT in Motion, written by Troy Moore, PT, DPT, Owner of Central Kansas Orthopedic Group.
Troy Moore has seen great success at his unique clinical set up in central Kansas. After using aquatic therapy for a few years at a local public pool, Troy spent a lot of time doing research to figure out the best way he could offer aquatic therapy in his clinic. After installing an underwater treadmill in his clinic, Troy has found some keys to success and shared a few of them in this article.
Analyze costs – Look at your costs and potential income without emotion.
Study current patient mix – Review your current patient mix and see if aquatics would fit their plan of care.
Study potential revenue sources – Consider what additional groups you could be serving with aquatics.
Talk with top referral sources – Visit your referral sources and find out their stances on aquatic therapy.
Talk with staff – Know that aquatic therapy is harder for your PTs, so get buy-in early.
Talk with clients – Discuss aquatic therapy with patients to get early feedback about their concerns so they can be addressed before the modality is installed.
See as many pools as possible – Talk with as many other pool owners to find out their likes and dislikes of what they have.
Market your pool – Don't forget to blast it out, with some video, to create buzz in your area.
If offering aquatic therapy is something you are interested in, but are not sure how to make it work, these tips are a great starting point to making the right decision for your patients and your business!
Read the full article here >> (login to APTA, article on page 52)