6 Ways to Generate a Return on Your Investment
The following post has been summarized from the recent article on McKnight's Marketplace titled, "Creating buzz around a new investment," written by Rachel McDermott. Rachel McDermott is the director of rehab for Stonehill Franciscan Services.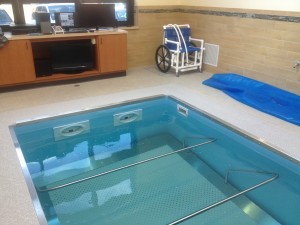 Any major upgrade to a facility requires a great investment of time and money. Stonehill Franciscan Services in Dubuque, IA knows this well as they recently underwent some major changes and improvements. One of the biggest additions to their facility is their new state-of-the-art wellness center featuring a HydroWorx 2000 Series therapy pool.
The goal, following a big addition or adding new equipment, is to implement programs or tactics in order to generate a return on your investments and ultimately increase the facility's bottom line. Having walked through this process, Rachel took some time to share some of the lessons learned in marketing their new wellness center as well as some of the specific tactics that worked well for them.
Be Creative. One idea that worked for this facility was hosting a community-wide event at the facility as part of their grand opening, which generated great community exposure.
Involve the media. Prior to hosting the event, they reached out to local media to help promote their grand opening. Local TV, radio and newspapers ended up covering the event and generated even more exposure.
Give Tours. They blocked out one day to invite assisted living and independent living residents to come try the HydroWorx pool and all of the equipment. In order to have your new center utilized effectively, educating and showing local residents around will increase their interest greatly.
Reach out to local physicians. Rachel took the extra time to visit with local surgeons to let them know about the new therapy pool with an underwater treadmill. As a result of developing these relationships, physicians began ordering pool therapy for a few of their patients and the therapy practice grew.
Encourage family member's use. Family members of residents who were using the pools were encouraged to try the HydroWorx therapy pool. They were able to see what was being offered to their loved-ones and soon became advocates in the community.
Train Staff. Last but certainly not least, training the staff was vital. They must be comfortable using the modality as they are your biggest advocates and users.
These are a few specific things that worked well for one facility. We would love to hear what worked well for you when your organization implemented a new program or added new equipment.
Upcoming Free Webinar: How to Make Aquatic Therapy Profitable
On August 12, 2014 from 1:00pm to 2:00pm EDT, Veronica Paquette, PT, Owner of Essex Aquatic & Rehab Center, will be presenting the free webinar, "How to Make Aquatic Therapy Profitable." This webinar will help you compare possible monthly expenses and potential generated income. With the ever changing reimbursement rates, there will be ideas to help generate additional revenue to your business outside of physical therapy income. It will also review maintenance requirements for a small therapy pool.