6 Ways Fall Reduction Programs Can Impact a Facility's Bottom Line
A couple months ago our resident expert on Senior Living, Patrick Hald, wrote a guest blog post about why falls are such a major concern for the aging population. He discussed how water therapy can have an impact on falls prevention and why it is so effective.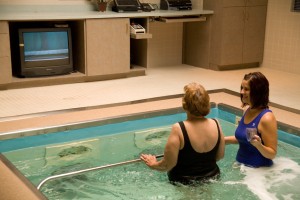 Taking that a step further, it is also important to understand how falls reduction is important to the success of a CCRC or Assisted Living facility. When facilities offer safe and lower pain methods of rehabilitation and wellness, such as warm water, they can ultimately become the "Facility of Choice" in their community. Offering services like this can result in:
Increased census and more referrals due to the differentiation from other facilities
Less resident discharges in Independent Living, Assisted Living and Intermediate Care Facilities
Increased RUG Scores and better patient mix
Decreased Average Length of Stay (ALS) numbers for rehab and short term stay programs
Increased ALS in Independent Living and Assisted Living facilities
You can't believe how happy I am that I was able to find some means of helping get my strength back. Being in the HydroWorx pool allowed me to be able to get up from a sitting position. I never dreamed of how much improvement I could make in such a short time.

– Virginia, user at Walnut Ridge, suffers from MS and Parkinson's
We've also compiled 6 direct monetary ways that a facility can see a positive impact from implementing a falls reduction program, such as FallProof™H20 which can substantially reduce the number of falls among older adults. Use the following to help calculate the monetary impact on a facility:
Falls are the #1 reason for liability claims against senior living communities and hospitals. The average cost per claim is $131,104 (AON Report 2011). Eliminate one claim and your facility saves $__________
Studies show that an individually tailored multidimensional Fall Reduction Program is the most effective way to prevent falls. The CDC (Center for Disease Control) has reported that for every $1 invested in an evidenced based program, $1.60 is saved in direct medical costs. With this program, how much can your community save in direct medical costs? $__________
One fall can cost a senior living community the loss of a resident (due to hospitalization, death, or transfer to a higher
level of care). Eliminate one lost resident annually and save $___________
Less Falls can bring in new admissions due to reputation and minimal falls statistics at your facility (from the program). One new admission annually adds additional revenue to your facility of $____________
Less Falls means less discharges or admissions needed to keep facility admissions at profitable goals or targets. One
less discharge annually saves $____________
Increased Admissions and Census due to offering a marketable amenity with proven results. One additional admission yields your facility $____________
Add up your projections in numbers one through six to calculate the total impact a falls reduction program could have on your facility in a year. Water exercise is an extremely effective and fun way to work on balance and gait with the senior living population.
Download our Tipsheet "Why Water Worx for Senior Living" to understand the full impact that aquatics can have on a facility's success>>