6 Tips for Creating a SUCCESSFUL Aquatics Program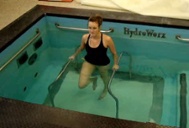 The following blog post has been summarized from the recent article, "Promote Your Niche," written by Keith Ori, PT and published in the November issue of Impact magazine.
Serving clients and helping patients to heal is the biggest focus of any physical therapy clinic, but another key piece to maintaining a healthy business is improving the bottom line.
Whether starting as a brand new clinic, or looking into ways to expand an existing clinic, one tool that has been shown to be successful is aquatic therapy. Using technologically advanced therapy pools to provide a valuable service to your existing and new client base can provide a reliable and sustainable return on investment while differentiating your clinic from the local competition.
Keith Ori, PT, managing partner and chief executive officer of Orthopedic Rehab, Inc. has seen great success with his aquatic therapy program and offers 6 tips for preparing a clinic to provide aquatic therapy:
Begin by using a local pool. The best way to identify the possibilities of aquatic therapy for your current clients, as well as potential new clients, is to begin an aquatics program before you even have a pool. It is a great way for clients and physical therapists to understand the potential benefit aquatic therapy can offer your patients as well.
Look at your pool options. Once you have seen the benefits of a pool and have most likely tapped out your resources at the local pool, begin investigating the different brands and types of therapy pools offered in the marketplace. It is important to consider your desires, your clients needs and pool features. Keith suggests looking less at the overall cost and more at the potential to meet your patients' needs.
Decide on location. When starting a new business or expanding a current one, it is important to decide where the pool will be located. Choose whether it can be installed in an existing clinic or facility, if you would like to expand an existing facility or if you will relocate for additional space. When looking for new space, make sure the space is easy to find, central to your clientele and has convenient parking.
Run numbers. Once you are truly considering adding aquatics, be sure to look at all of the data to support your decision. Look at potential revenue and assess the costs. Most importantly, identify the break even point (how many clients per week are needed to keep the pool viable).
Start construction and advertising. Start advertising as soon as ground is broken on the project. This includes telling potential referral sources, current clients and the community.
Open the pool and manage the numbers. Once the program is running, don't lose track of the the figures. Continually assess actual expenses and realized revenue to ensure success.
Keith offers these suggestions based on his experience starting an incredibly successful aquatic therapy program within an existing physical therapy practice. Thanks to careful planning and a focus on the client, Orthopedic Rehab, Inc. in rural Montana has seen an impressive return on his investment in aquatic therapy.
Download our case study, including financial data, to see how a creative business plan and a great team is generating a big return on investment for Orthopedic Rehab, Inc.