6 Reasons Why You Don't Want to Miss the NEW HydroWorx 300 at LeadingAge 2015
The LeadingAge Annual Meeting is right around the corner, taking place November 2-4 in Boston, MA. We are excited to debut our newest product at the conference this year in Booth #1041. The HydroWorx 300 is the benchmark for construction-free unweighting devices. Utilizing warm water therapy as a medium to enhance rehabilitation, improve balance and ease arthritic joint pain through water's buoyancy, resistance and hydrostatic pressure, this advanced hydrotherapy system provides the ultimate amenity to serve your residents and your community.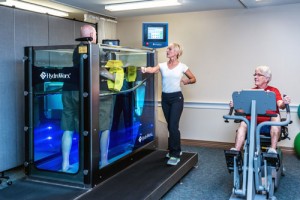 6 reasons why you don't want to miss the HydroWorx 300 Series at LeadingAge:
It does not require construction, fits through a standard 36″ doorway and can maximize empty or underutilized space in your community.
It can be placed beside land-based therapy equipment. Your aquatic patients or wellness members can be right beside your land participants.
It features all of the same advanced technology as our therapy pools, including underwater treadmill and resistance jets, but in a smaller footprint at an affordable price.
Accommodate any resident of weight bearing status or skill level by adjusting the water depth with the touch of a button in a matter of seconds.
To learn more about our affordable financing options including $99 payments or the first six months.
To see the referral opportunities available in your region and how this cutting edge amenity can set your community apart from your competitors.
We would like to invite anyone who is attending the annual conference to stop by Booth #1041 to see the New 300 Series in action and to learn how aquatic therapy can improve census and help your residents.
Schedule a demonstration and receive a free ROI, design and referral opportunities package tailored to your region and community today!
In addition to offering personal demonstrations of the new HydroWorx 300 Series, we will be offering the following opportunities in our booth:
Desserts and drinks: On the first day of exhibits, November 2, desserts and drinks will be available for anyone who comes by to see the new 300 Series. Be sure to stop by early.
The softest HydroWorx t-shirts yet: Fill out our survey in the booth for your free HydroWorx t-shirt (while supplies last).
Chance to win a $250 gift card: Anyone who fills out our 5 minute market survey will be entered to win a $250 gift card.
Opportunity to meet with industry expert and research specialist: Dr. Dennis Dolny, PhD, a research specialist at the University of Utah, will be available in our booth to share more about the proven benefits of warm water therapy for the aging population.
We are looking forward to seeing you all in Boston, MA in two weeks. Don't forget to register for your free HydroWorx 300 Series demonstration today!