6 Benefits of Aquatic Technology for Senior Community Residents
In a senior community, residents often display a wide range of abilities: from those who need maximum assistance to those that are continually active. For residents of all levels, daily "performance" and activities of daily living (ADLs) are just as important as an athlete's performance in any sport. By integrating underwater treadmill and resistance jet exercises for rehabilitation and/or wellness within your facility, you can provide a safe and effective way to help your residents rehabilitate, become more active and safely perform everyday tasks required for an independent lifestyle.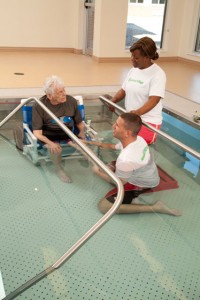 Key areas where residents can improve with a HydroWorx underwater treadmill, therapeutic resistance jets, treadmill support bars and adjustable floor include:
Balance: Working in a warm water environment, you can work on balance activities with your residents in a safe environment. The natural volatility of water causes people to work harder at staying upright with correct posture. By increasing the disturbance of the water by turning on resistance jets at varying levels, you can really work on one's ability to balance and correct themselves when outside forces disturb them. Doing this in the safety of the water is a great way to improve skills that perfectly transition to land and immediately make a difference.
Exercise and Weight Loss: A common barrier to anyone looking to exercise, either for wellness or weight loss, is pain. Particularly for those that are overweight, exercise (and what they need the most) can seem like an impossible task. Thanks to the buoyancy of water, exercise becomes a real possibility because the water reduces one's body weight up to 90%. Using an underwater treadmill combined with resistance jets, anyone can get a great workout while increasing cardiovascular endurance, but without the joint and muscle pain.
Improved Strength: Walking on the underwater treadmill combined with the viscosity of the water is proven to increase leg muscle strength (see University of Akron research study). Improving leg strength is not only beneficial to keeping residents active, it is also a key component of reducing falls.
Reduced Pain: The warmth of the water in a therapy pool can greatly reduce pain associated with arthritis, fibromyalgia or other chronic pain issues. Once joint and muscle pain is reduced in the water, movements become much easier and less strained, allowing for rehabilitation or fitness work to be done. The deep tissue massage hose can provide additional relief to aching muscles.
Rehabilitation: In senior living communities, surgeries are a pretty common occurrence, whether for joint replacements or specific episodes. Typically after a lower-body surgery, there is a period of time when the patient is required to be non or partial-weight bearing. Thanks to the buoyancy of the water,  rehabilitation can begin even just days after surgery. The hydrostatic pressure of the water helps to immediately decrease inflammation thus increasing mobilization of the affected joint.
Increased Compliance: Thanks to numbers 1-5, it is easy to see why compliance might increase with warm water therapy. When pain is reduced and goals are being reached, residents don't like to cancel therapy or exercise sessions. In fact many say, they "wouldn't miss it." When hope seems lost for returning to a previous function (whether after surgery or just the natural processes of aging), they can see progress much earlier in the water. This provides healing for their mind as well as their body.
To learn more about how water worx for Senior Living and Senior Services, including the financial impact of an aquatic therapy pool purchase, download our tip sheet now>>
Upcoming Webinar: Why Water Matters in a Retirement Community Wellness Club
Join us for this webinar on April 29, 2014 from 1:00pm to 2:00pm EDT. This webinar will explore why water matters to the aging population, and why a pool is an investment that is worth every penny. Find out why Walnut Ridge at Clive Senior Community was able to create a successful and thriving wellness center by including a swimming pool and smaller therapeutic pool along with the land-based fitness options.