5 Ways Hydrotherapy Can Impact an Athlete's Rehab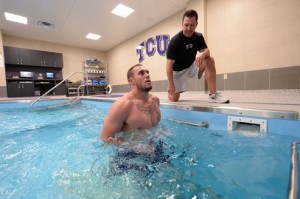 Getting an athlete back into the competition is extremely important at all levels, from professional to recreational. There are often financial, team and personal implications when recovering from an injury.
Warm water hydrotherapy combined with state-of-the-art technology can create some impressive advantages for rehabilitating athletes, getting them back faster and stronger.
Here are just 5 ways it can impact rehab. With hydrotherapy you can:
Offer a solution for all levels of weight-bearing ability.
Begin rehab sooner to reduce inflammation and accelerate the process.
Reduce pain significantly.
Increase lean muscle mass and overall leg strength with underwater treadmill exercise.
Rejuvenate and recover with greater impact.
Request a Free Info Kit     View Our Products     Find a Pool Near You
Download the "5 Ways Aquatic Therapy Impacts Rehabilitation" Tip Sheet to find out more about each of the ways that aquatic therapy can impact rehabilitation. Download this tip sheet today>>
Page Updated on: August 7th, 2020