5 Considerations Before Investing in a Pool for Your Clinic
The following blog post has been summarized from the recent article, "Taking the Plunge," written by Daniel Seidler, PT and published on the Physical Therapy Products website in October.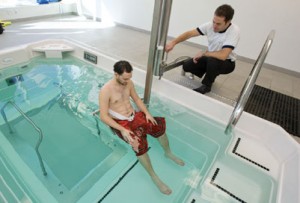 Many elite athletic programs, such as the Andrews Institute, the Oregon Project and professional and collegiate sports teams use aquatic therapy for their athletes. Offering the same elite-level technology helps a local physical therapy clinic to stand out and become the "facility of choice" in their area. Dan Seidler, owner of WSPT in the Bronx can attest to this. He has seen aquatic therapy to be one of the best modalities for patient satisfaction, improved outcomes and additional revenue. He also has valuable tips on important things to consider before investing in a therapy pool:
Staff Training and Needs: Making sure your staff understands the benefits of aquatic therapy helps to increase the probability of compliance and successful outcomes. That includes making sure they understand the healing properties of water and encouraging them to get in the pool to see what protocols work in the water.
Maintenance: Having an intentional plan for the daily, weekly and monthly maintenance of the pool ensures that the pool will perform at its highest level for the multitude of patients using it. When repairs are necessary, make sure you have a service contract or vendor that is able to service the product quickly when needed.
Partner Relationship: Find a pool company that is invested in your success. Whether opening and brand new practice, a new branch or adding a pool to an existing facility, it is important to know that the vendor is going to work with you to make your clinic a success.
Durability: Find a product that will withstand consistent use over time. It is important to find a company with a reputation for service that is available when needed.
Return on Investment: Before investing in a pool, make sure you look at the numbers and are able to identify how you will make a return on your investment.
Dan Seidler has seen great results from installing a HydroWorx 500 Series pool in his urban clinic. Many of his patients have difficulty walking on land and using the underwater treadmill helps them to employ proper gait patterns while progressing back to land.
Aquatic therapy is helping to change the standard of rehabilitative care. Download our free tip sheet, 5 Ways Aquatic Therapy Impacts Rehabilitation!