4 Ways to Deliver Quality Care in Senior Services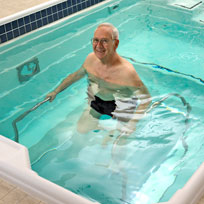 The following post is summarized from the recent Executive Insight article, "Delivering Quality Care to Build a Healthy & Stable Business."
Clear Choice Healthcare operates 10 post-acute care facilities, primarily in Florida. They are continually finding ways to provide quality care in the ever-changing healthcare environment. Four of the things they do to offer this care include:
Building a quality team with a passion to serve and a positive attitude.
Serving their patients by focusing not only on their medical or rehab goals, but also their personal goals.
Investing wisely in equipment that provides the best functional outcomes for clients.
Educating their community on health issues and facility offerings.
These are all important aspects to providing superior care to the thousands of people that turn 65 every day.
HydroWorx 500 Series pools are included in many of the Clear Choice facilities. Using advanced technology equipment like this offers great functional outcomes for their patients. Not only can they see great outcomes, it provides a more comfortable environment in which to work toward their clients' personal goals. Sometimes, being able to walk from the house to the car seems overwhelming and scary, especially for those with balance issues. Using aquatic therapy can help individuals gain strength and balance without the fear of falling. These skills can then be transferred to land therapy and eventually to their activities of daily living. At Clear Choice, the underwater treadmill and resistance jets are used to challenge patients beyond their limits of stability without the fear of falling. This increases their confidence and provides improvements on land-based tasks.
Additionally, the natural properties of water combined with HydroWorx technology enhances cardiovascular stamina, muscle strength and flexibility as well as increases range of motion post-surgery.
It is important to educate physicians in the community about the technologies and outcomes provided by the facility. This can help to increase referrals and ultimately, the health of the community. Opening the facility up to those that are not older adults gives an opportunity to build relationships with individuals who may need the services in the future.
To learn more about Why Water Worx for Senior Services, download our whitepaper today!