10 year-old Cerebral Palsy Patient Strives to be Wheelchair Free
Cerebral Pals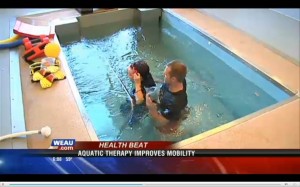 y is a disorder without a clear definition or cause. It can involve and impair brain and nervous system functions, such as movement, learning, hearing, seeing, and thinking. However, there are a wide range of side effects depending on each person and each case. Regardless of the severity, cerebral palsy is a challenge to live with.
Ten year-old TJ Ivankovic has accepted this challenge and is all smiles when it comes to his physical therapy. This news story comes from WEAU.com titled, Aquatic Therapy program helps improve mobility. TJ has been utilizing the HydroWorx therapy pool at the Dove Healthcare's facility in Eau Claire, WI for a while now. Since beginning his aquatic therapy at Dove, TJ has made giant steps forward with his therapy program.
Aquatic Therapy Specialist Chase O'Keefe states,
"When TJ first came in we basically had to sit him on the deck and lower him in and work from the ground up and now he is walking around and doing his own thing in the pool."
TJ, who came in to the program walking with braces on his legs now, as you can see in the video, has become extremely active in the pool. The HydroWorx therapy pool is a perfect fit for someone like TJ, who cannot carry his own weight on land because the water acts as an aid and allows him to walk and splash freely. Being underwater, as O'Keefe tells WEAU, does not put pressure on his joints and allows him to work more on his balance.
With an ultimate goal of getting out of his wheelchair one day, TJ visits Dove Healthcare once a week and does it with an incredible attitude. Watch this video of TJ and his aquatic therapy trainer making use of the adjustable floor, video camera and underwater treadmill!