Marketing Your Aquatic Therapy Services 101
Congratulations! You've decided to add aquatic therapy to your toolbox. Now it's time to spread the word. In this blog, we'll cover a few ways to generate awareness and drive appointment bookings for your new aquatic therapy program.
Best Practices for Aquatic Therapy Marketing
Whether you want to attract new clients or strengthen your relationship with existing ones, you can use a few valuable clinic marketing tips to spread the word about your new HydroWorx pool:
Create a Hydrotherapy Service Page
The first point of contact between your practice and a client is often your website. Potential patients may explore your website to learn more about your services. Update your site to include a hydrotherapy service page with sufficient information about aquatic therapy and how it works. You can also include a few videos of patients using your aquatic wellness pools. Add some patient testimonials highlighting the positive elements of hydrotherapy.
Market Your Aquatic Therapy Services on Social Media
Social media is an excellent way to reach a large volume of people. If you recently set up your aquatic wellness pool, why not share a video or image introducing the service? You could also share a video of a patient using your HydroWorx pool and encourage viewers to request an appointment. Be sure to include valuable information about aquatic therapy to keep your followers engaged.
Host a Launch Day
Launch days create excitement among existing and potential patients. You could set up your HydroWorx pool and invite people to watch an aquatic therapy session firsthand. Prepare a demonstration to educate viewers on hydrotherapy and what a typical session entails. Discuss the various conditions and injuries hydrotherapy treats, and share one or two success stories.
Become a Source of Authority With Blog Posts
Many people are unfamiliar with hydrotherapy. You could create a few blog posts about aquatic therapy, including information about how it works, its benefits, frequently asked questions and positive outcomes of previous patients. It may help to designate separate blogs for certain medical conditions or injuries to target specific patients who need your hydrotherapy services. Additionally, when you post informative blogs with valuable knowledge, you become a source of authority to your target audience.
Target a Niche
Although hydrotherapy caters to a wide variety of injuries and chronic conditions, narrowing your target market may prove more effective. For instance, would you like to aim your aquatic therapy service at athletes with sports-related injuries or patients recovering from a surgical procedure? You could address your social media posts to college football players, emphasizing the benefits of hydrotherapy after an intense football game.
Drive Referrals
You could approach neighboring physicians and ask them to refer their patients to your clinic. Many patients go to their general practitioner before they seek assistance from a physical therapist. Since aquatic therapy is a unique service, many local physicians may gladly send patients your way. However, prepare a comprehensive presentation before approaching them to build their trust in your practice. You could include a video testimonial or research supporting the benefits of hydrotherapy.
Create Google Ads
Take advantage of Google Ads by targeting specific demographics matching your niche. Create separate ads highlighting how hydrotherapy assists with different conditions, such as hip replacements, shoulder surgeries and sports injuries.
Advertise on Your Building
Although most health care marketing takes place digitally, we should always appreciate the power of an old-fashioned office sign. If you have a signboard listing your services, be sure to include hydrotherapy. You can also put up a few posters and TV screens around your clinic to inform your patients about your new aquatic therapy facility.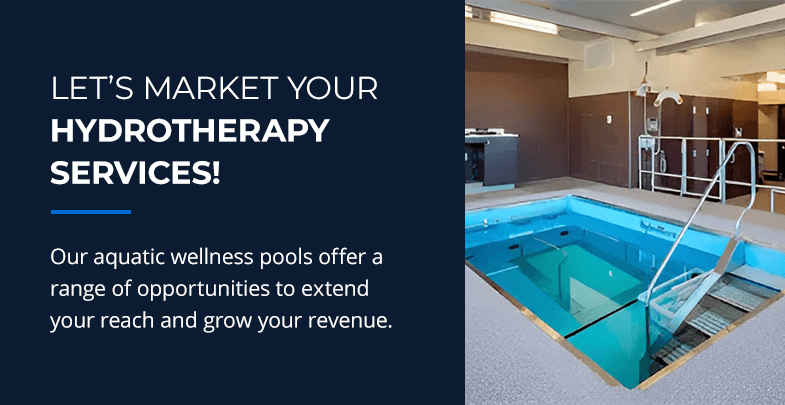 Let's Market Your Hydrotherapy Services!
Our aquatic wellness pools offer a range of opportunities to extend your reach and grow your revenue. HydroWorx provides comprehensive physical therapy marketing assistance. Contact us to request a free business plan, or use our ROI calculator!