Marketing Your Aquatic Therapy Services 101
14 Best practices for spreading the word about your new service
Congratulations! You've decided to add aquatic therapy to your toolbox–now it's time to spread the word. In this blog we'll cover 14 ways to generate awareness, and drive appointment bookings for your new aquatic therapy program.
Driving Clinician Referrals
Aquatic therapy programs are unique and chances are there's a handful of local physicians in your backyard who would gladly refer patients to your clinic for hydrotherapy. Use these 3 tips to generate more referrals:
Send a letter. Write a personal letter that addresses the needs of your prospective referring clinic and invites them to take a tour of your clinic to see a hydrotherapy session for themselves. Include a QR code that links to a video of yourself explaining the benefits of your aquatic therapy program. Make sure the video is positioned for clinicians, not patients. You'll want to take a deep dive on the value that referring to you brings to your prospective referring practices–such as faster recovery time, increased patient compliance, less incident of re-injury during rehabilitation, etc.


Send an email. Send potential referring clinics an email with links to evidence that supports hydrotherapy. Include a link to the same video that you included in the physical letter. If you have patient testimonial videos include those too.


Target a specific niche. The easiest way to get started marketing a new service is to select a niche. For example, consider targeting a specific condition such as knee surgeries, hip replacements, back pain, or shoulder surgeries. This will allow you to market very narrowly to a specific target audience. Make sure you include very specific benefits of hydrotherapy for your selected condition and include outcome measurements to encourage referrals.

Marketing to Your Patients
Marketing to your existing patients is the easiest way to get quick uptake on your new hydrotherapy services. Use these tips to activate your current patients, and attract some new ones.
Create a service page for hydrotherapy on your website. This will allow interested patients to browse your new service. Most patients visit your website to learn about services before they call and ask about them. Make sure you include a FAQ section and a "what-to-expect" section to accelerate their research process.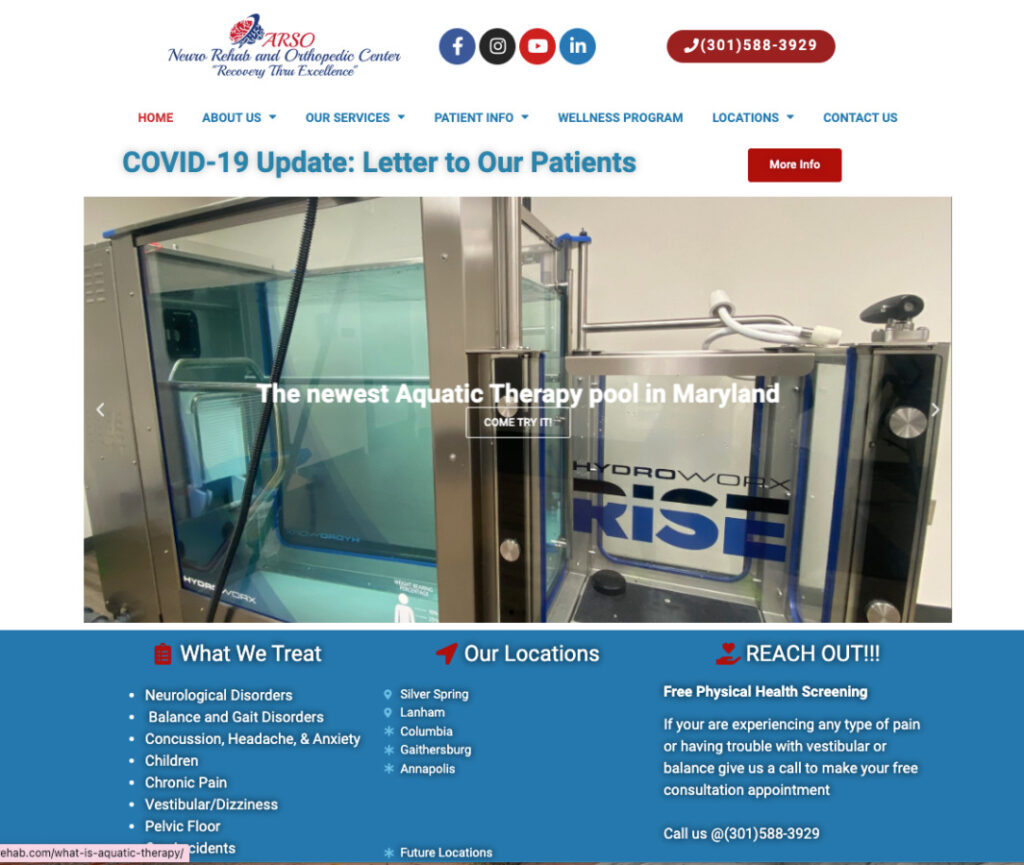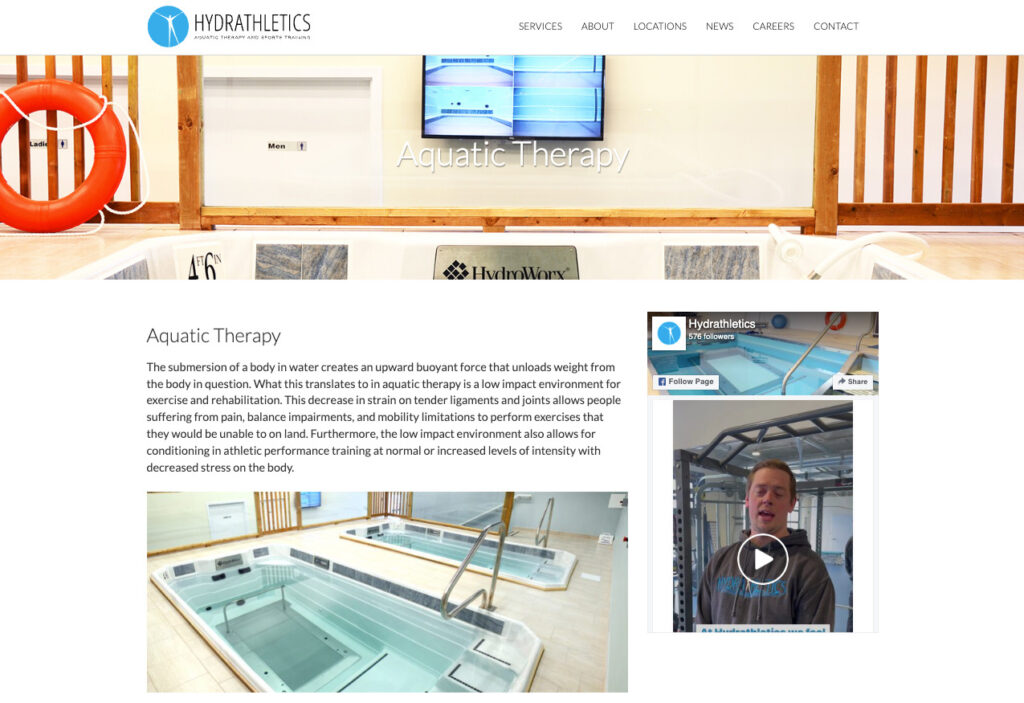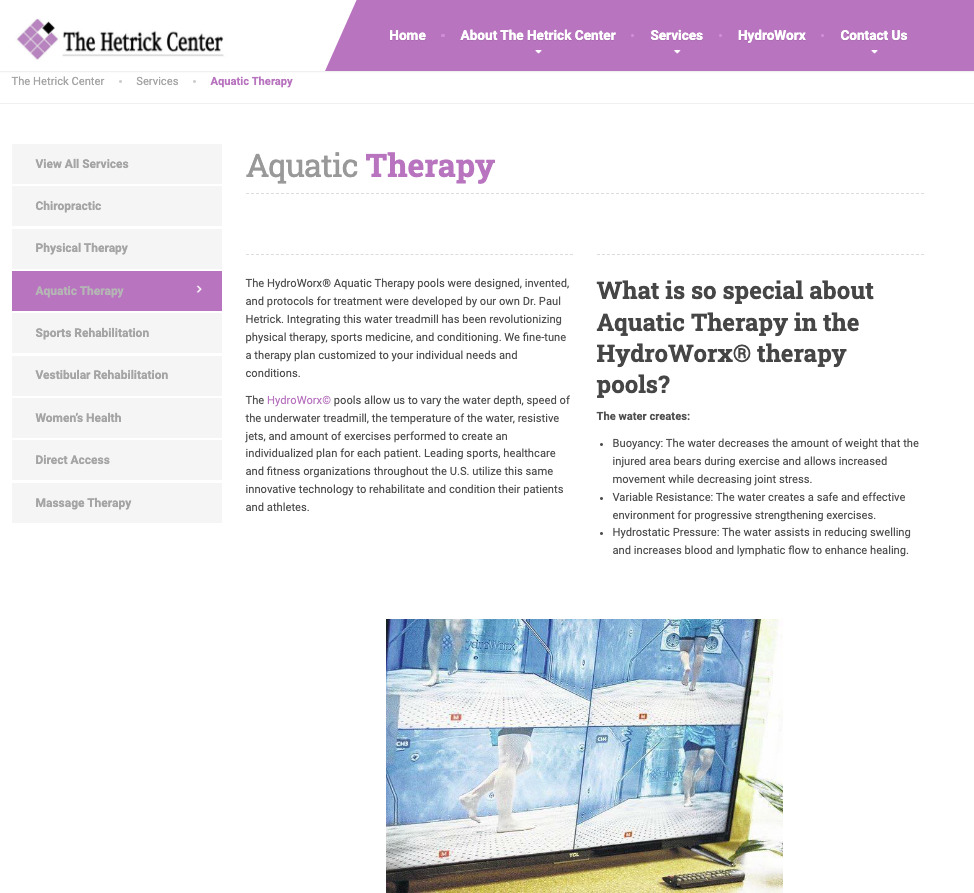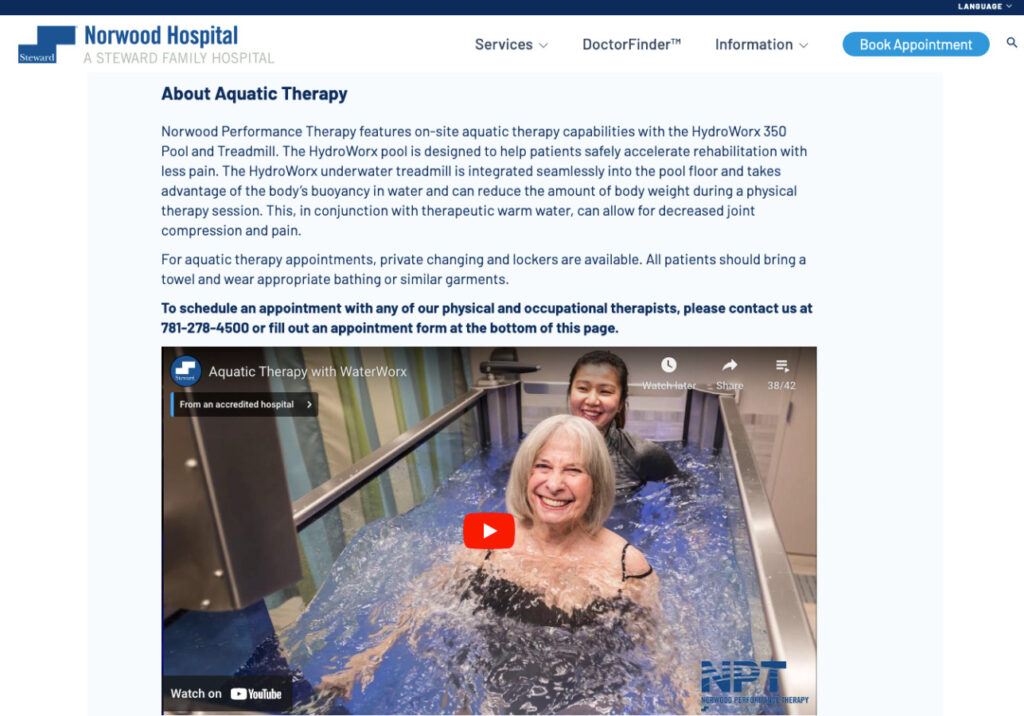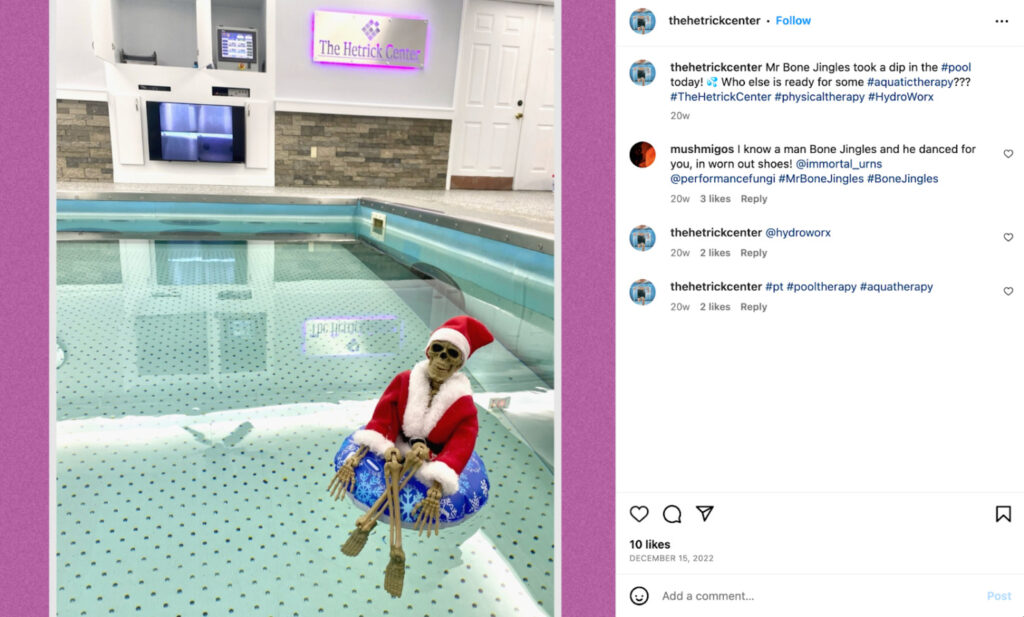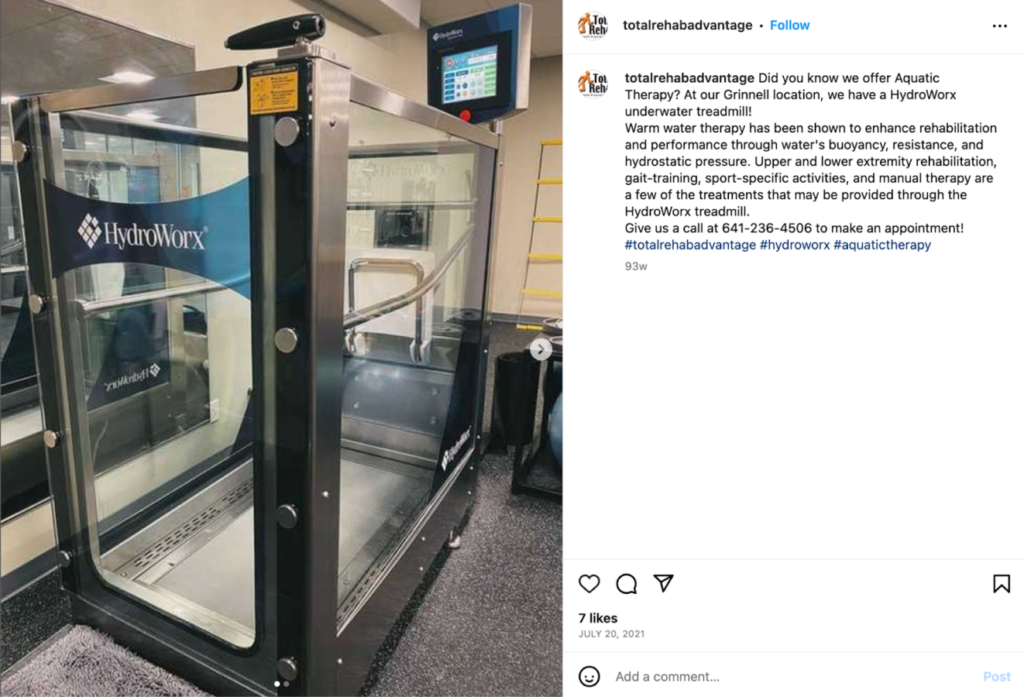 Create social ads to expand the reach of your message. Create a video ad that shows a hydrotherapy session. Use a learn more call to action that links to either your service page or a detailed blog post that explains hydrotherapy. You can also retarget your website visitors with an ad that directs patients to schedule a hydrotherapy appointment.


Embed videos on your website.
The best way to demonstrate hydrotherapy is with a video. Use them on YouTube, your website, and in your organic and paid social ads.


Create blog posts about your aquatic therapy. Use your blog to tell patient stories, and focus on specific conditions that benefit from aquatic therapy. Focusing on specific conditions will help your clinic be found by those searching for condition-based rehab.


Use Google ads. Create Google ads that are targeted to a local geography that focus on specific conditions that hydrotherapy can help.


Don't forget about office signage. Outfit your clinic with posters, brochures, and TV screens that show videos of hydrotherapy sessions in action. Include QR codes on your posters and brochures that either link to an informational video or your service page.

Using Aquatic Therapy to Attract New Patients
Find a niche. Focusing on a specific condition or patient population allows you to narrowly market. For example, consider targeting runners and market your aquatic therapy for conditioning. You can attend local runner community events and market to local runners on Google and Facebook/Instagram to convert these avid runners into hydrotherapy patients.


Host an open house. Hydrotherapy is exciting to watch. Host an open house so patients, referring physicians, and prospective patients can see it in action. Give a demonstration and allow people to try hydrotherapy for themselves. Include food and prize drawings to attract more attention.


Collect and share patient testimonials. Testimonials are one of the best ways to drive new appointment bookings. Collect video reactions during your open house to get started. Use patient testimonials on your blog, via organic social media, and in your paid social campaigns
.
Learn more about the comprehensive HydroWorx lineup of aquatic therapy solutions at https://www.hydroworx.com/products/.