Hammond Henry Hospital Set to Open HydroWorx Therapy Pool
We love Grand Openings!  And the Hammond Henry Hospital, Geneseo, Illinois, is about to unveil its new HydroWorx 2000 series therapy pool in September.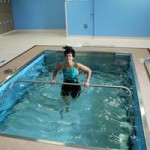 Why did this facility decide to go with HydroWorx?  As this article from the Geneseo Republic explains in a quote:
"Sometimes it is difficult for patients to rehab on land, so this rehab is unweighted and is less strain on the joints," said [director of rehabilitation services Julie] Theill. "The warm water makes it so it is a comfortable environment to exercise in. It is an environment that people can enjoy being in."
The HydroWorx 2000 Series unit will be located in the brand new Colo Aquatic Center.
Image source:  Amy Carton, Geneseo Republic.