OrthoCarolina Integrates a HydroWorx for a Second Time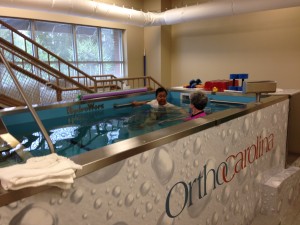 As healthcare and patient needs continue to evolve, OrthoCarolina has integrated a second HydroWorx pool to offer more health benefits for people in need of aquatic physical therapy and alternatives to land-based exercise.
Aquatic therapy had become so popular at OrthoCarolina that they sometimes had difficulty getting every patient in their pool.  Their HydroWorx InstaFit Series pool is very different than a traditional pool typically found at a health club. This therapy pool is specially equipped with an underwater treadmill, massage hose capabilities, resistance therapy jets and underwater video.  These advanced technologies allow their physical therapists and specialists to provide innovative healing, which was becoming somewhat of a double-edged sword before the company decided to invest in a second HydroWorx therapy pool which they installed at one of their facilities several miles away.
"We've had so much success, but it can be difficult to keep up with the demand," admits Cheryl Bennett, PTA.  "Having another therapy pool allows us to offer more for patients who want and need aquatic therapy.  That's a huge group, too; so many people need this kind of avenue to transition safely to land-based physical therapies.  Without aquatic therapy, many patients would fall off the schedule or have tremendous difficulty getting over the initial 'hump' of therapy.  With the pool, we can get them headed in the right direction from day one."
Duane Albers, PT, Director of Physical and Hand Therapy, OrthoCarolina notes, "The pool continues to be very successful for our patient population and for many of our patients. It allows us to initiate therapy earlier following their injury which in turn helps to regain function sooner and pose less long term complications. Additionally, for those patients who are limited in WB (weight bearing) or who may be challenged by land based exercises, it allows us to make functional progressions in the pool to carry over to a land based program. The decision to add a second pool was highly supported by our physician leadership in order to provide a high level of care in multiple locations to meet the growing needs and convenience of our patients."
Now that they have added a second therapy pool at the north end of their city, they are able to offer a more convenient solution for former and current OrthoCarolina patients who do not wish to fight through traffic for their aquatic therapy. In the past, some OrthoCarolina patients tried to continue their progress in the pool at local gyms, but those pools' cooler temperatures and more generalized programs made them frustrated with the experience.  Having a warm-water HydroWorx pool in a different location enables OrthoCarolina to offer expanded services to a broader group of people in need.
About OrthoCarolina:
As one of the nation's leading orthopedic practices, OrthoCarolina is your destination for comprehensive orthopedic care.  Since 1922 we've offered a continuum of care for patients across the Southeast.  Our dedication to training and research coupled with our expertise in foot and ankle, hip and knee, shoulder and elbow, spine, sports medicine and pediatrics allow for the high quality care patients expect.  OrthoCarolina intends to build on the previous established relationship between Novant Health and Cleveland Clinic for our patients here in Charlotte.