Proud to Announce First HydroWorx Pool in Rhode Island
In the world of healthcare and sports today, many of the top hospitals, clinics, professional and collegiate sports teams use HydroWorx to rehabilitate and train patients and athletes. And we couldn't be more proud to be a part of these facilities who are focused on healing and improving the lives of their clients.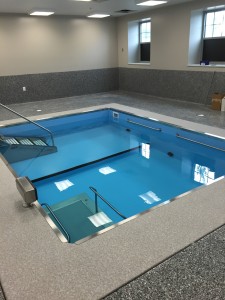 We are excited about this new facility Performance Physical Therapy, a physical therapist-owned practice in Rhode Island offering a variety of innovative services that help patients of all ages achieve optimal physical function-fitness, wellness and rehabilitation.
Their newest location in Pawtucket, RI, is a 9,500-square-foot state-of-the-art facility that is home to the state's first and only HydroWorx pool. "The pool allows us to provide the best physical therapy care for our patients," said Dr. Michelle Collie, owner and CEO of Performance. Whether someone is rehabbing from a total joint replacement, an injury or is suffering from chronic disease, the HydroWorx pool "is an invaluable tool to aid in their therapy," she said.
Not only is Performance PT now home to the state's 1st HydroWorx pool in the country's smallest state, it features the largest HydroWorx pool, a 3500 Series. The 3500 Series enables these physical therapist to treat multiple patients at one time, whether it is on the underwater treadmills or in the open therapy area. The technological advantages combined with water's therapeutic benefits makes for a powerful rehabilitation and performance tool.
"Our new HydroWorx pool has become an invaluable tool for Performance PT. It has allowed us to improve the diversity of care for all of our patients. The pool is an amazing tool for us to be able to use with all levels of patients. We have patients recovering from hip surgery to training professional athletes on our underwater treadmill. Patients are excited to be able to perform activities in the near weightless environment that would not be practical in a land based clinical setting. We are seeing patients progressing faster and having improved outcomes in less appointments.- Dr. Brian Hay, DPT, MS, OCS
Read the full press release about Performance Physical Therapy, Pawtucket today>>
View this FREE On-Demand Webinar: Create a Successful Aquatics Program Through Staff Engagement
View this on-demand webinar sponsored by HydroWorx, "Create a Successful Aquatics Program Through Staff Engagement," by Keith McCrate, PT, Director of Rehabilitation and Wellness Services at Presbyterian Village North. Keith, being a Director of Rehab and Wellness understands that there are many techniques and best practices you can use to establish high-quality aquatics programming that leads to patient and client outcomes. In this webinar attendees will learn how the therapists and wellness staff work together at Presbyterian Village North as a dynamic team that is highly trained and focused on improving the lives of everyone they serve. View this on-demand webinar here.