Facility Spotlight: TRIA Orthopedic Center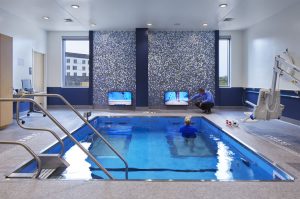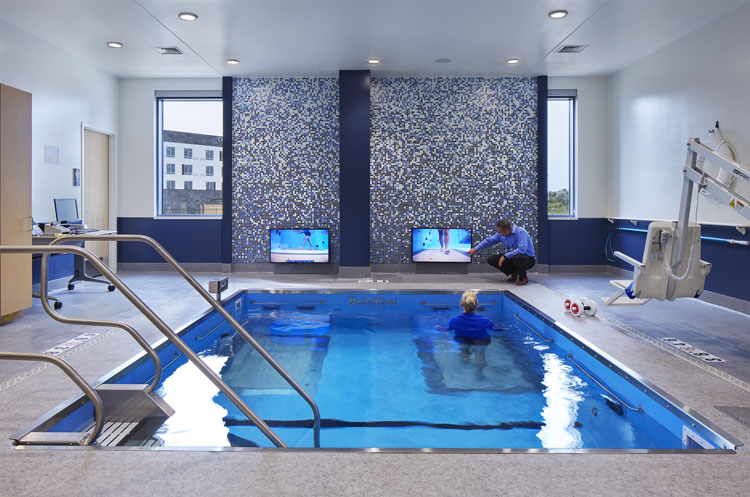 We love to highlight our partners showcasing new aquatic therapy business models, techniques or innovative programming.
Having just begun their new aquatic program with a HydroWorx 3500 Series in September 2017, TRIA Orthopedic Center in Woodbury, MN is already gaining notice for their new aquatic modality and its complement to TRIA's other pioneering services, such as sports medicine, orthopedic walk-in urgent-care services, surgery and recovery programs, all under one roof.
"I feel like we're on the cutting-edge with our new pool," stated Christine, O'Hotto, PT, DPT and director of rehabilitation and operations at TRIA, "especially for the type of organization we are. Major universities and professional sports teams utilize this technology, but not many facilities like ours, and NONE that I can think of on the east side of the Metro. We're seeing high-level athletes driving across town for this modality. And each time they come into the pool it gives them exposure to the other services and modalities we offer."
TRIA began as a partnership between a private sports medicine practice (The Orthopaedic Center), a multi-specialty healthcare provider (Park Nicollet Health Services) and an academic center (Department of Orthopeadic Surgery, University of Minnesota Physicians). Orthopedic surgeons from each of these three entities realized the need to bring all elements of orthopedics together to improve patient care and treatment outcomes. TRIA was built on the strengths of each of its partners in an effort to empower patients to become more involved in all aspects of their medical care.
Christine says the real beauty of what they provide is the same quality of care for all patients.
"No matter the patients' age or their level of activity, they will all receive the same great care," continued Christine. "Our clinicians have years of experience returning high-level athletes back into competition and working with a patient who needs a total knee replacement to get back to the activities they love."
Laura Neitge, PT, DPT, and head aquatic therapist for TRIA, told us about a particularly satisfying experience her team shared with a patient.
"One patient we worked with last fall," explained Laura, "came in with severe back pain. During our evaluation she was extremely guarded; in tears, in fact. She'd experienced months of ineffective treatment after a bicycle accident and the frustration was quite evident.
"I put her in the pool two days a week. We started with really gentle range of motion exercises, using the buoyancy the pool offers, its warmth and comfort.
"After about two months of hard work on her part, this patient was able to comfortably walk around her home, take walks through the community and was soon riding her bike again. In two short months, she went from tears and pain to riding a bike, pain-free. The pool really provided that for her."
Christine, who's worked in aquatic therapy much of her career, knew for many years of the HydroWorx brand.
"Some of the primary activities any pool therapist will want to incorporate are variations of resistive walking; trying to work on core stability, balance and triggering certain functional movement patterns. In my previous experience, the pools we used did not have underwater treadmills. Patients had to take laps across a large pool. This was inconvenient to resistive walking. Now, with the underwater treadmill and video analysis equipment, we're at a new level. We can attach patients' movement patterns with opportunities for functional improvements, based on what specific joints patterns are occurring. We monitor and analyze this. That's very exciting for us as well as our patients."
Thanks, TRIA, for your part in raising the bar for patient empowerment, collaboration and choices. We're proud to be partners in the journey.