Free Hydrotherapy Course at St. George's Park
Join us Monday, June 24, 2013 from 9:00-14:00 at St. George's Park National Training Centre for, An Introduction to HydroWorx for the Sports Injury Rehabilitation Professional From the Perspective of a Premier League PhysioTherapist and the Professionals at St. George's Park
Learn how Premier League clubs and elite physiotherapists and performance coaches utilize advanced hydrotherapy to keep their athletes in shape and on the pitch. Limited space is available, be sure to register today!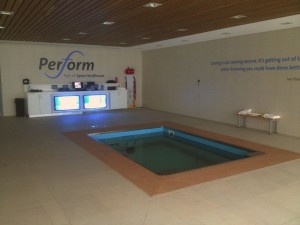 DETAILS:
The purpose of this course is to offer an introduction to the value of aquatic therapy for performance and rehabilitation with HydroWorx products. Sports injury rehabilitation professionals will learn how to safely reduce the recovery time of their athletes and maintain cardiovascular fitness while injured.  They will also learn ways to prevent injury and enhance recovery through advanced aquatic technology.
This half day educational conference will guide the participant through an introduction to aquatics for the Sports Injury and Performance Professional and offer various protocols to treat common sport related injuries.  It will also display the unique features of the HydroWorx pool that are critical for your athlete's accelerated recovery and performance.  The informal format of the course is designed to encourage hands-on and experiential learning and will offer time in the pool to experience the unique technology of a HydroWorx such as the underwater treadmill, resistance therapy jets and deep tissue massage.   The program also includes lunch and a tour of Spire Perform at St. Georges Park.
PROGRAM AT A GLANCE:
8:45-9:00am: Registration and Welcome
9:00 – 10:15am: Introduction on Hydrotherapy: The Chelsea FC Philosophy presented by Jason Palmer, Physiotherapist at Chelsea, Paul Williamson Perform Physiotherapist Lead at St. George's Park and Brock Christopher, Performance Specialists at Michael Johnson Performance
10:30- 12:30: Pool Demonstration. This portion will offer hydrotherapy techniques on underwater treadmill running, functional exercises, proprioception, power based exercises, strength based work, upper extremity exercises, conditioning, core & back strengthening. It will also offer a wound sealing demonstration for early aquatic intervention post-surgery.
12:30-1 pm: Lunch
1-1:45 pm: Pool Room Design Considerations by HydroWorx Representative
1:45-2:05pm: Tour of Perform at St. George's Park
2:05 pm: Ajourn
Register today for this educational course!  Limited Space Available.