University of Maine Hockey Players Experience the Underwater Treadmill
Treadmills are known for helping injured athletes return to competing quickly.  Completing this exercise underwater, allows the user to experience low-impact rehabilitation.  This can be particularly important for people with injuries to the lower body.
As part of a University of Maine exercise science class, an undergraduate, two graduate students, and Professor Robert Lehnnhard, studied the cardiovascular conditioning, as well as the low-impact rehabilitation that an underwater treadmill can provide.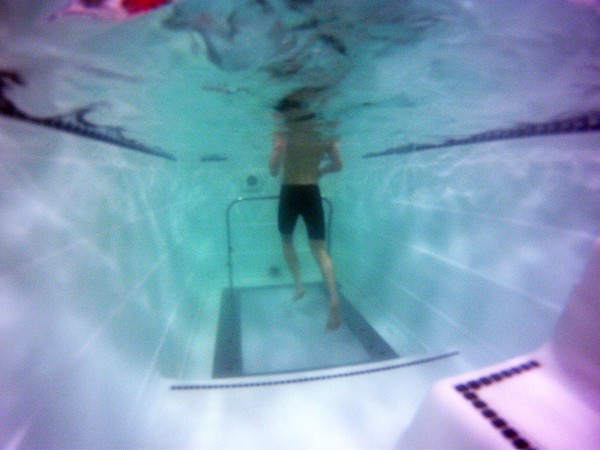 The study involved 12 athletes from the University of Maine hockey team.  Data regarding oxygen consumption, lactic acid buildup, heart rate, and calories consumed was collected.
Professor Robert Lehnhard said, "If you go to the gym or the rec center and get on a stationary bike, or if you get on an elliptical machine and put in your body weight, they'll tell you how hard you've worked. With this new underwater treadmill, those types of data don't exist. Nobody had ever determined the difference in metabolic impact from two miles per hour to three miles per hour. That's an important part of rehabilitation."
When athletes rehab, they want to get back to their previous level of performance without losing cardiovascular strength and endurance.  Lower limb injuries are among the toughest.  The underwater treadmill lowers impact on both joints and muscles.
 "The general public could benefit, perhaps more so, since they are less fit. I think it fits well with rehab, but I don't think it's a tool you would use for [intense] conditioning", says Lehnhard.
Lehnhard feels that nonathletes could benefit the most from underwater treadmills.  He says that these people are not accustomed to repeated impact on their joints.  The adjustable jets and current available in these innovative pieces of equipment, allow the normal person to experience just that.
Whether you are experiencing any lower body injuries or simply want to condition, a HydroWorx pool is the perfect option.
For the full article, please visit: https://bangordailynews.com/2012/06/04/health/umaine-hockey-players-test-underwater-treadmill-in-study/